Changing Your Workout Tunes Can Keep You Motivated
How Often Do You Switch Up Your Workout Tunes?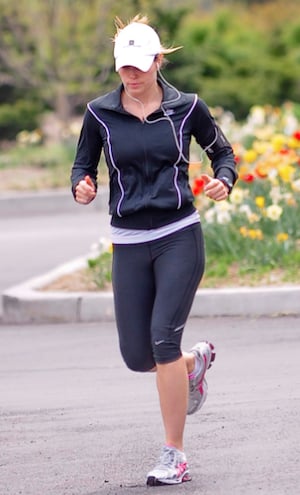 Music can certainly make or break a workout — it even has the power to motivate you pre-workout! As seen in this pic, Jessica Biel is obviously a fan of rocking out to tunes while she runs.
Personally, I prefer listening to a good mix of top 40 hits while I work out (regardless of what cardio I'm doing), although there are a few oldies that never seem to escape my iPod — Kelly Ripa knows which ones. And in terms of creating new playlists or mixing in new songs into my current playlist, I do it all the time. And when I say all the time, I mean at the very least, once a week. I've been told this is a bit crazy, but I will tell you one thing — a few new songs and I'm motivated to run faster, do more reps, or lift heavier weights.
FitSugar editor Susi May says she never switches up her workout tunes. So I'm curious to know if I'm a freak of nature, or if there are others out there like me. Please weigh in below!