Checklist For Your Early Morning Run
Even though the daylight has shifted one hour, many of you may still be in the habit of running in the morning before work. If you're having a hard time motivating because it's a bit darker, here are some things you can do to prep for that run the night before.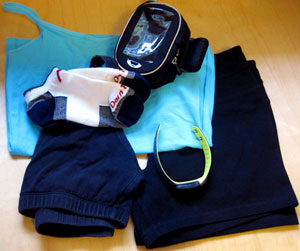 Eat a dinner that contains whole grains. These carbs will break down much slower than say white rice, pizza, or sugary dessert. This type of hearty dinner will give you the get-up-and go you need in the morning to feel energized for your run.
Get your outfit ready and everything you need for your run, so you're not racing around in the morning for 20 minutes trying to find the lost mate to your favorite wicking socks. Set out your running clothes, sneakers, sunglasses, tissues, iPod case, and headphones, charge your iPod, and finalize plans with your running buddy.
Get the ingredients for your breakfast ready as well, making sure it's low in fiber (to avoid digestive issues), and a good combination of protein and easily digested carbs. Nut butter on toast, granola with yogurt, and eggs are great choices.
Get to bed early enough so that you can get a solid night's sleep, at least seven or eight hours. Make sure your alarm clock is set.
Tell me, do you prefer running in the morning even if it's dark outside?