Chef Charlie Ayers Beet Carpacio Flatbread With Walnuts Recipe
Healthy Gourmet Beet Carpaccio Flatbread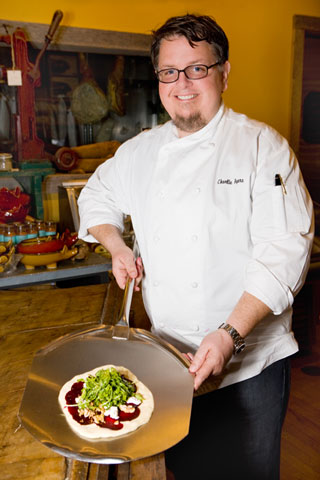 I love beets and I love walnuts, but the healthy nuts don't seem to need much of a hard sell. Beets, on the other hand, are shunned by many, and unrightfully so in my opinion. This recipe by former Google chef Charlie Ayers is a great way to work beets into a meal for folks that have no love for the red tuber. At a recent event celebrating the health benefits of the California walnut, I overheard many guests exclaim that they never liked beets until eating this very dish. When I say "Try it, you'll like it," I really mean it.
This flatbread recipe is like a Mediterranean pizza with no tomato sauce. Serving the arugula on top of the cooked dough layered with beets and cheese is another creative way to work greens onto your plate. The dish feels fancy.
To check out the recipe, keep on reading.
California Walnut Beet Carpaccio Flatbread
Ingredients
For the basil citrus vinaigrette dressing:
Handful of fresh basil leaves
2 tablespoons olive oil
1 tablespoon Champagne vinegar
2 teaspoons minced shallots
1 teaspoon Dijon mustard
2 seedless orange segments cut in chunks
1 teaspoon finely grated lemon zest
salt and pepper to taste
For the flatbread dough and toppings:
3 medium-sized beets, tops removed
2 tablespoons cornmeal
12 ounces frozen bread dough, thawed but cold (preferably white or whole wheat bread)
1 tablespoon olive oil
¼ teaspoon salt
½ cup crumbled goat cheese
½ cup chopped California walnuts
About 3 cups (about 2 ounces) arugula leaves
Directions
To prepare the basil citrus vinaigrette, rinse the basil leaves under water. Place in a microwave-safe bowl, cover with plastic wrap, and microwave 20 – 30 seconds, until wilted. Cool, then squeeze to remove any excess liquid. In a blender or food processor, combine the basil leaves with the oil, vinegar, shallots, mustard, orange segments and lemon zest. Blend until smooth, then season to taste with salt and pepper. Transfer to a small bowl or jar, and set aside while preparing the dough and toppings.
Preheat the oven to 450ºF. Wrap each beet in foil, place in a shallow pan and bake for 45 minutes – 1 hour, until tender when pierced. Unwrap the beets and let cool, then peel them. Slice the beets as thinly as you can, either on a mandolin, the slicing slot of a box grater, or with a knife. Set aside.
For baking the flatbread, increase the oven temperature to 500º to 550ºF — the hotter the better. Sprinkle a 12-inch pizza pan with the cornmeal. Place the bread dough on a floured work surface, then press, pat and roll it into a rough circle 10 to 12 inches across. As you work, the dough will begin to fight you and spring back. When this happens, stop for a few minutes, then resume — the dough will be easier to handle after it rests. Lift the dough onto the pizza pan and pat it into a rough, roundish circle; it need not fit exactly. Prick several times with a fork, then brush with the olive oil and sprinkle with salt.
Bake 10 to 12 minutes, or until the dough has puffed a little and is quite brown. Remove from the oven and spread with the beet slices. Cut the flatbread into 6 or 8 wedges, keeping them together in a circle. Sprinkle with the goat cheese and the walnuts.
In a bowl, toss the arugula leaves with the citrus vinaigrette, spread over the flatbread, and serve.
Serves 6 to 8 for appetizer.
Nutrition information per serving: 215 calories, 12g total fat, 3g saturated fat, 4g monounsaturated fat, 4g polyunsaturated fat, 5mg cholesterol, 373mg sodium, 22g total carbohydrate, 3g fiber, 8g protein
Information
Category

Appetizers

Cuisine

Mediterranean/Middle Eastern
When I asked Chef Ayers if you could substitute pita bread for flat bread, he said yes, and that even a Boboli pizza crust would work in a pinch.