Chelsea Clinton Tells Bill Clinton to Lose Weight For Her Wedding
It's Not Just a Bride's Worry: Bill Clinton Is Worried About Wedding Weight Too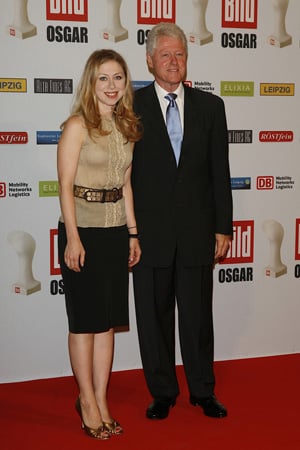 Since most wedding workouts focus on the bride getting in shape before heading down the aisle, it's easy to forget that other folks are also worried about looking their best on the big day. Personally, I've witnessed many a bridesmaid and groom ramp up their workouts before the nuptials, and as Bill Clinton shares in an interview with ABC News, even the father of the bride has pressure to slim down.
"She doesn't think I'm in shape to handle it," Clinton said. "You know, she told me the other day, she said, 'Dad, the only thing you gotta do is walk me down the aisle, and you need to look good.' " Clinton added that when he asked her to specify how much trimming down she felt he needed to do, she said, "Oh, about 15 pounds," an effort he said he's "halfway home" toward accomplishing.
While I've been to a few weddings in my life, none of my closest friends or family has yet to be married, meaning I've escaped any wedding party duties. When the time does come I'm sure that I will make an effort to look my best, but I can't imagine anyone will put pressure on me to lose any weight. For those of you who have been in a wedding, I'd love to know — if like the former president — were you ever asked to slim down before the bride's big day?