Chelsea Handler on Cover of Shape Magazine April 2010
Chelsea Handler Shows Off Bikini Bod in Shape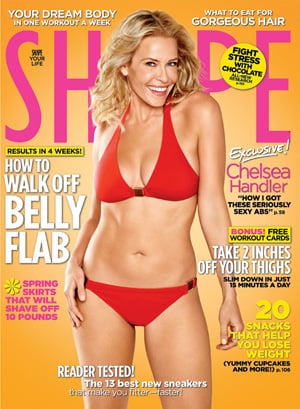 Funny lady Chelsea Handler may love her cocktails, but that hasn't stopped her from looking positively smashing on the April cover of Shape. The comedian, 35, is candid about her long road to a fit lifestyle ("I was born with a French fry in my mouth"), but says today she is healthier than ever. After years of yo-yo dieting and jumping from workout to workout, Chelsea shares that she's finally found a fitness regimen that she can stick to. Here are the interview highlights:
On how she ate growing up: "My parents were not the healthiest eaters. My mom was a great cook, but her idea of a light after-school snack was mac and cheese and brownies. So of course I was like, 'Why am I 15 and struggling with my weight?' It took me a long time to deprogram myself after I moved to L.A."
On her favorite food splurge: "There's a diner in New Jersey that makes steak fries with melted mozzarella that you dip in gravy. Every time I eat there, I'm like, 'Can I move in here, please?' Seriously, why would I ever leave?"
To see what Chelsea has to say about exercise and drinking,
.
On trying different exercise regimens: "I've tried them all, but I'd usually end up quitting because I'd get bored. Or, as with yoga, after months of doing it, I'd still have belly flab. And doing cardio at the gym can be so annoying! I hate it when there are 50 treadmills and I'm the only one there, but then someone just hops on the machine right next to me! Hello!"
On finding the right exercise:

"It's [Pilates] been the most gentle on my body," says Chelsea. "I'm longer and leaner and much more graceful. I can honestly say it's changed my body — and my life."

On her love of liquor: "I told my nutritionist, 'I'm not going to quit drinking. I love to hang out with my girlfriends and have cocktails and dinner; it's how I relax,'" she says. "He explained that calorie-wise, vodka isn't so bad, as long as you drink it with soda. Knowing I could have a drink made it easier to stick to the program."