Cherry Recipes For Every Meal
Reduce Muscle Pain With a Meal Plan That Comes With a Cherry on Top
It won't be long before cherries start popping up at farmers markets everywhere. The taste alone of this sweet fruit is enough reason to snack on them, but the nutritional benefits provide an even better excuse. Cherries are a proven anti-inflammatory, and have also been shown to help lower cholesterol and reduce muscle pain. More than a simple snack, the antioxidant-rich fruit can easily be incorporated into every meal.
Breakfast: Cherry Coconut Risotto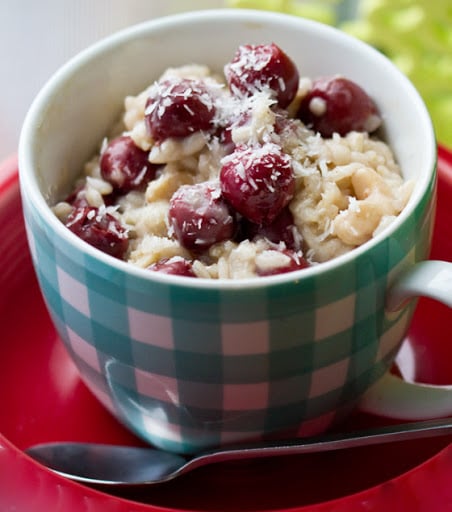 Oatmeal fatigue setting in? Fuel up until lunch with a comforting bowl of cherry coconut breakfast risotto. This vegan breakfast can be made in big batches and saved in the freezer for those mornings where there just doesn't seem to be enough time to do it all!
Lunch/Dinner: Sandwich or Salad


Amp up the flavor profile of a savory dish by adding some of POPSUGAR Food's cherry compote recipe to the mix. We're especially fond of this turkey sandwich with watercress that uses the compote as a spread.
See the rest of the meal plan after the break!

This salad of cherries, blue cheese, and almonds takes on smoked flavors from both the almonds and blue cheese. And the pomegranate dressing that the spinach and arugula is tossed in amps up the salad's antioxidant profile even more!
Snack/Dessert: Chocolate Cherry Granola Bites


Since cherries have been shown to help reduce sore muscles and joint pain, make yourself a batch of these cherry granola bites to enjoy post-workout! Also rich in fiber and omega-3s, the cookie bites contain chocolate chunks making it an equally good after-dinner treat.