Chest Press on Exercise Ball
Back to Basics: Stability Ball Chest Press
For an exercise that strengthens both your chest and core muscles, turn to the chest press. While it's a move commonly done on a weight bench, adding a stability ball not only engages your upper body but your butt and hamstrings, too. Here's how it's done: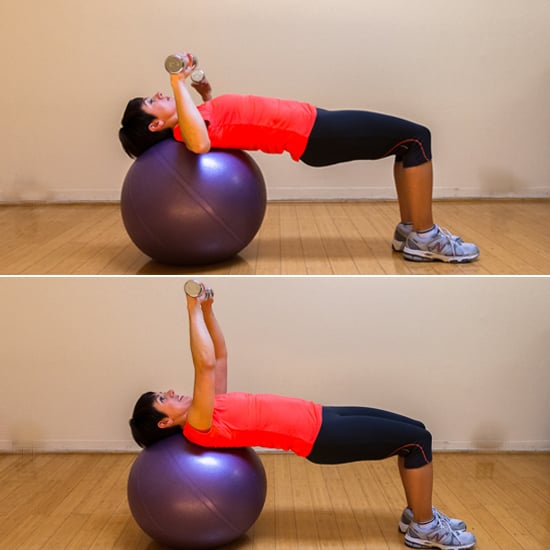 With a pair of dumbbells, lie on a stability ball (positioning it underneath your mid to upper back). Keep your feet flat on the floor with your ankles directly under your knees.
With your hips lifted, engage your core. Holding the dumbbells by your chest, palms facing forward, exhale as you press the weights toward the ceiling. Hold this position for a second.
Slowly lower the weights back to the starting position, and repeat — use your abs to keep your body still.
Do three sets of 12, keeping your hips lifted the entire time.
Tip: Pick a dumbbell weight that will tire your muscles after 12 reps (i.e. it's nearly impossible to do the last rep). And, as always, be sure to only use your chest and arm muscles to lift the weight, not momentum.