Christina Applegate Speaks Out Against New Breast Cancer Testing Guidelines
Christina Applegate Is Ready to Fight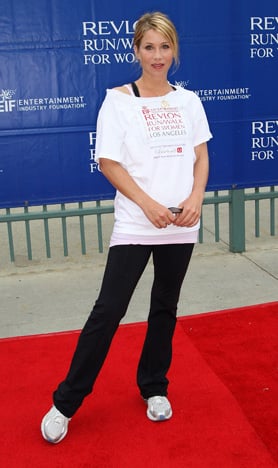 When the new guidelines for breast exams came out late last year, I admit that I was surprised. They were announced just as National Breast Cancer Awareness month was ending: women in their 40s should no longer have annual mammograms, and women between the ages of 50-74 should have one exam every other year. The United States Preventive Services Task Force also recommended that doctors stop teaching women how to examine their own breasts.
The panel defended its choice by stating that the harm of early testing far outweighs the benefit. The research it looked over indicated that mammograms produce false-positive results in about 10 of cases, which leads to more tests, anxiety, and unneeded treatments like chemotherapy, radiation, or surgery. According to the study, early screening did little to prevent breast-cancer-related deaths or mastectomies in younger women.
To hear what breast cancer survivor and actress Christina Applegate thinks of the new testing guidelines,
.
It wasn't surprising that this announcement sparked a huge debate on both sides. The American Cancer Society vehemently opposes the new guidelines and says that routine mammograms are key in detecting early cancer and preventing mastectomies and breast-cancer-related deaths.
Recently Christina Applegate added to the debate, saying this about the issue:
"Don't even get me started. Look, I just started to sweat. I get a little angry. I don't mind being outspoken about that. I think that is the most atrocious thing that I've ever heard. I was 36 years old when I had breast cancer, and you're going to have people wait until like their 50 to get screened? It irks my whole body. I'm telling you it's not going to happen. We women will fight against that as much as we can."
It's clear that this debate will continue to pick up steam on both sides — it will also be interesting to see if these new guidelines change current health insurance policies. How do you feel about the new testing guidelines? Are you as upset as Christina? Share your thoughts with me in the comments section below.