This year, I'm running my third runDisney race — the Disney Princess 10K [1] — and I'm finally ready to commit to a real costume. In years past, I've worn a tutu [2] and character-inspired apparel [3], but never a full-on, all-out costume. And to be honest, the costumes at runDisney races [4] have always been so good that the FOMO has finally overtaken me.
Creating a real runDisney look is a true art form; you need to put something together that creates an iconic character (the costume portion of it) while also mitigating chafing and discomfort and keeping everything secure and supported [5] for all your miles (the technical portion). You could obviously just run in a Halloween [6] costume, but I've learned that the diehard runDisney fans are much more careful — and creative — with this process.
I gleaned all of this not just from my past two runDisney races but from my good friend Sarah Stevens [8], a true expert who's run 14 runDisney races and created just as many unique costumes (usually a mix of Lululemon and handmade pieces). The result is a combination of strategically curated running gear mixed with costume pieces and bedazzled sneakers and accessories. Read: equal parts showstopping costume and technically sound performance wear [9].
And for my character of choice this time around? My go-to princess has always been Ariel (mermaids forever), but I've been so . . . well . . . enchanted by all the Cinderellas that I've seen on courses past, I decided to go with the iconic powder blue look myself. Check it out!
The Big Picture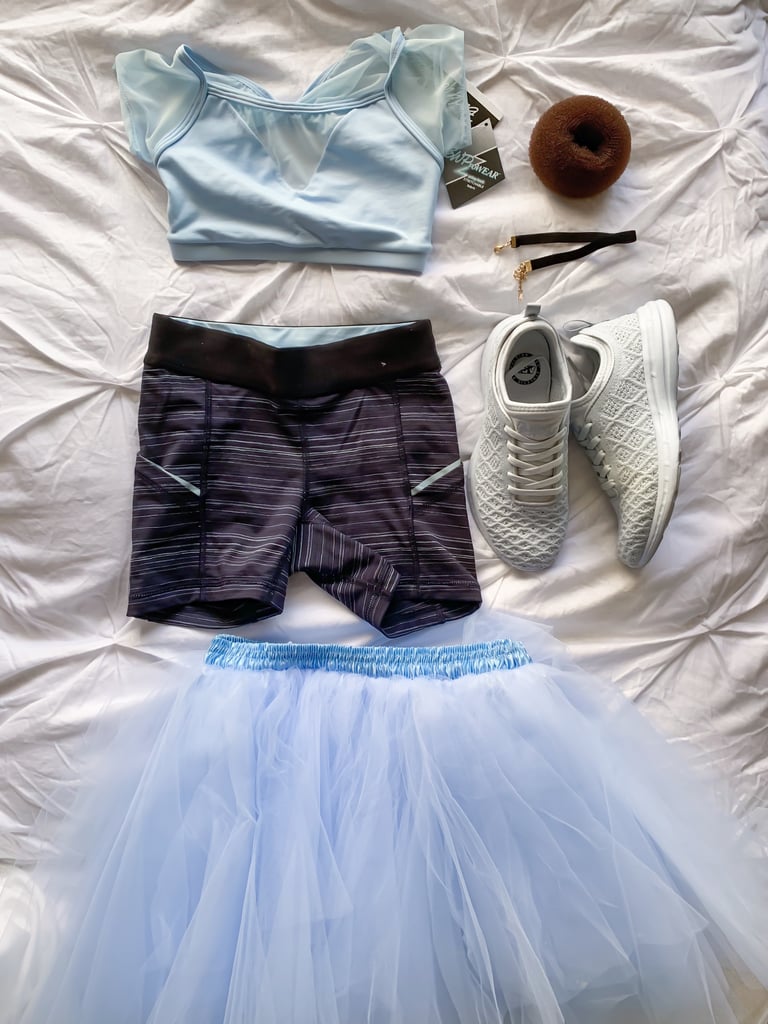 For Cinderella, I knew I wanted to execute this look not just with an ice blue tutu but by nailing some of the smaller details: the vintage, almost bouffant-style updo, the headband, the pearl earrings, the black choker, and the cap sleeves.
A Little DIY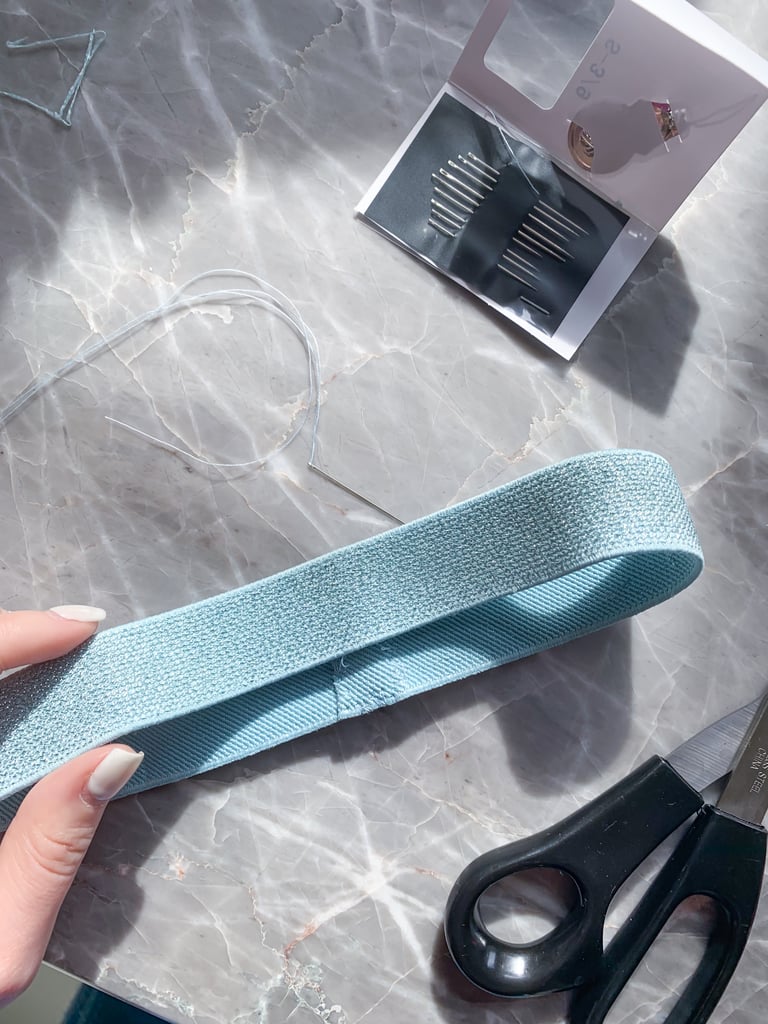 I purchased nearly every piece of clothing in this outfit and will wear them exactly as they came, with the exception of my sneakers, which I may bling out to amplify the "glass slipper" look.
Then there's the headband — I decided to make mine out of glittery elastic and hand stitch it to fit my head so it'd stay in place and keep sweaty hair off my neck and face [10]. I'm not a master seamstress by any stretch of the imagination, so hand stitching took a bit, but it was worth it. I felt like one of Cinderella's little birds with a sewing needle. Very on brand.
The Technical Gear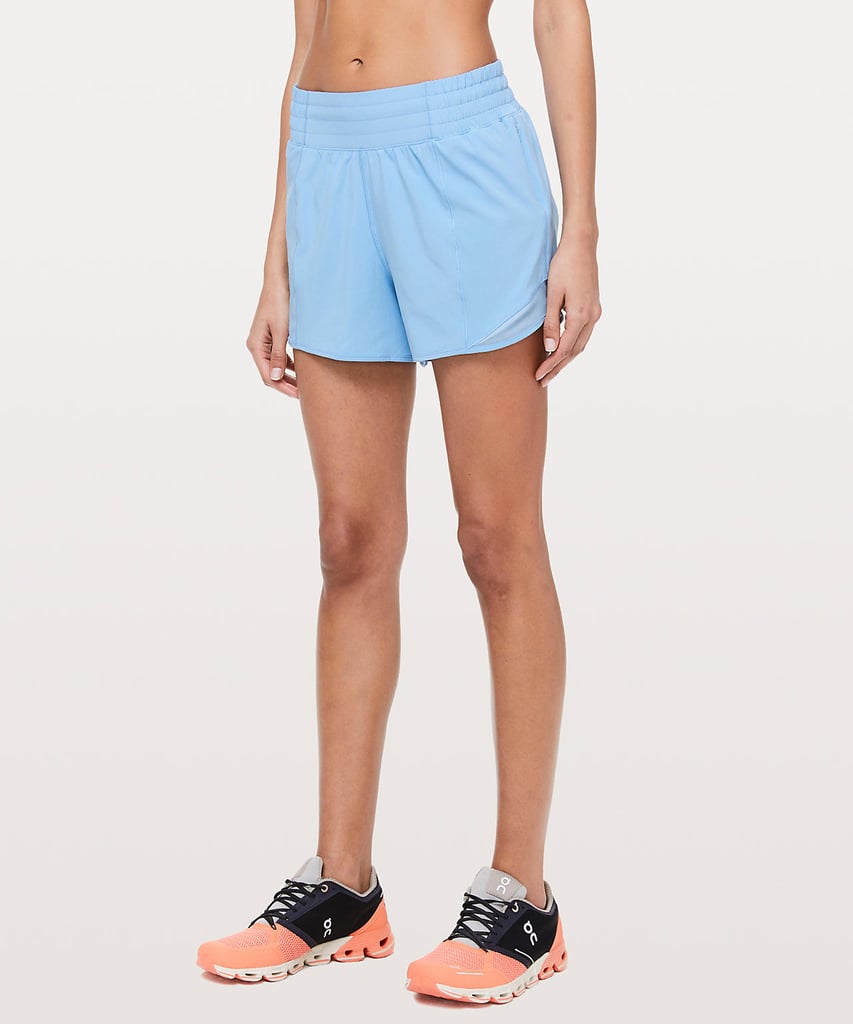 The base of this outfit has to be functional, or you'll be left with hours of discomfort during your race and even more afterward when you have rubbed skin, chafing [11], and blisters. To cover the basics, you'll need running shorts [12] or pants, a sports bra, a top (my top doubled as both in this case), running socks, and comfortable sneakers.
Shorts
My favorite pair of running shorts (I've done four half marathons in them!) are from Lululemon, but they're no longer for sale. But my favorite noncompressions — that just so happen to be in Cinderella blue right now — are the Lululemon Hotty Hot Short [13] ($58). These have built-in underwear, they're superbreathable, and they're soft as can be — perfect for under your tutu! Another bonus: pockets! This way you can stash keys, lip balm, etc.
Top
The top I opted for was actually a children's dance top (don't worry, it comes in adult sizing [14]!), and I found it on Amazon: Body Wrappers Short Sleeve Mesh Crop Dance Top [15] ($21-$32). This gave the costume-type feel I was hoping for, but at its core it's a sport-specific piece.
Shoes
My sneakers are my go-to APL TechLoom Phantom [16] ($165). They come in a Light Sky colorway that matches the rest of the gear while giving some glass-slipper vibes. I'll definitely be blinging these out a bit more with some sparkly baubles I find at the race expo in Orlando.
Finishing Touches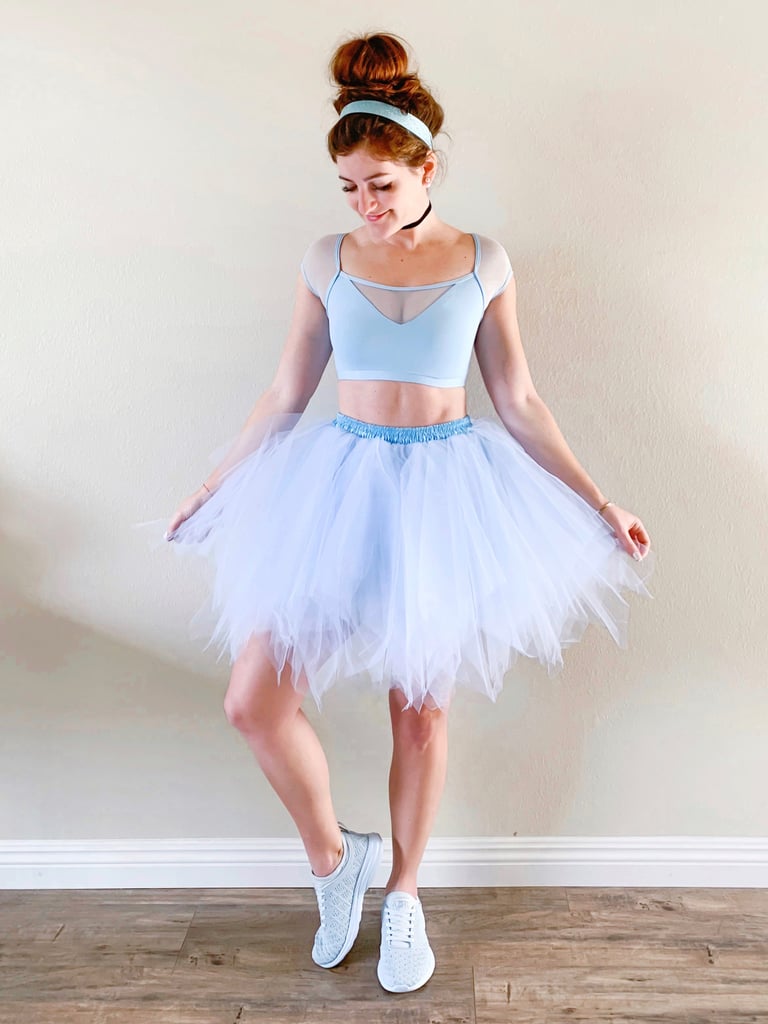 OK, so now for the final details and finished look. Note: my hair will be a bit more polished on race day — this is definitely a trial run!
Accessories
Choker: a stretch velvet piece I found on Etsy for around $5.
Earrings: big pearls I've had forever from Baublebar. I feel like any big faux or real pearl earring would be perfect for this!
Headband: DIY [17]. You can grab any light blue sport headband, and add a little sparkle! Will I also add a tiara? Who can say. The Walt Disney World race expos are always full of little treasures.
Tutu: Another Amazon find for under $20. There are tons on there! This one I'm wearing has an adjustable waist with a drawstring.
Hair and Makeup
Hair: I used a bun-maker to add lots of oomph. There are tons of types of these, but I went for that little spongey donut (around $2). The key here is lots and lots of bobby pins and a bit of hairspray.
Makeup: I know, I know — makeup at a race [18]?! Yes! My go-to is always tinted SPF [19] (because you need sun protection anyway, so you may as well make it work for you), mascara, and magnetic lashes (the One Two cosmetic ones actually stay on during exercise [20]), a little brow gel, tinted lip balm, and for special occasions like this one, a bit of liquid highlighter on cheek- and brow bones.
Et voila! I'll be back here soon to update you on how it went during the race.