Cindy Crawford's Diet and Fitness Tips For Looking Good Over 40
Cindy Crawford Is Fabulous and Over 40!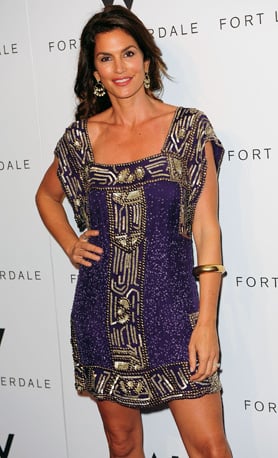 While her heyday may have been in the '90s, at 44, supermodel Cindy Crawford is no chopped liver. She looks incredibly youthful and can still rock a bikini. Cindy recently joked with Us Magazine that her secret to looking good is all "smoke and mirrors." While a cute LBD and a pair of Spanx might help some, there's no mistaking that Cindy is the real deal when it comes to living a healthy life.
"It's a combination of a lot of things. I don't smoke, I don't take too much sun on my face — all those things. If you keep doing them enough over the years, they add up."
Cindy also shares that she doesn't diet. Instead, she's just learned to eat healthy over the last 20 years: "I'm never off the wagon, so I never have to get back on the wagon. I think it's about maintaining a healthy body weight."
This mom of two looks amazing and I love her confident outlook. I hope I'm looking that good when I reach the 40-year-old mark!