Climb For Breast Cancer Trips
The Fight Against Breast Cancer Reaches New Heights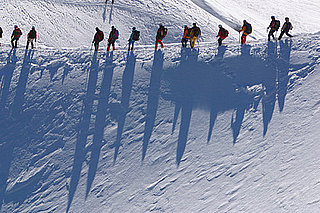 I'm sure most of you know about — and may have even participated in — one of the many breast cancer walks that happen annually. But did you also know that you can get vertical for the cause? Every year, outdoor enthusiasts reach new heights, literally, to honor the wives, sisters, mothers, and even sons who have been stricken by this disease. Together they raise money and ascend their way to the top of some of the world's most popular peaks like Kilimanjaro, Mt. Shasta, and Mt. Ranier.
While some require prior knowledge or certification in mountaineering — like the Fred Hutchinson Cancer Research Center's Volcanoes of Mexico ascent — others, like the Breast Cancer Fund's ascent of Mt. Shasta, are open to newcomers. The thing you can be certain of is that it will be life changing and extremely physically demanding. Besides carrying the weight of a 50-pound backpack, you will be faced with acclimating to a higher altitude and dramatic changes in weather. Think of it like the most intense hiking trip you can imagine with a couple of tools thrown in. Is it worth it? Hell yeah!
To be able to participate in these climbs expect to first raise at least $3,000, and in some cases up to $12,000 for the cause. And while many of the climb for cancer trips organize training sessions for you, others set you up with a outlined program to follow until the big day arrives. If you're a newbie to outdoor sports, you can be certain that training should begin months before the big day. Trips are scheduled from the Spring through the Fall, and it's still not too late to sign up for the 2010 expeditions. If you're interested, check out the websites for Climb to Fight Breast Cancer and Climb Against the Odds.