Close the Refrigerator to Prevent Food Poisoning
Food Poisoning Prevention Tip: Close the Fridge!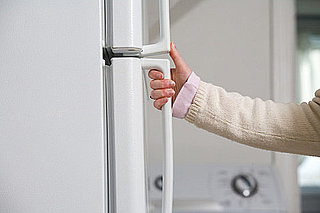 Last week, a friend and I went to a restaurant and ordered pizza topped with stracciatella, a soft, fresh cheese. It was delicious, and we popped the leftovers in the fridge to save for later. The next day, she took the leftover pizza out of the fridge and ate it for dinner — and promptly got a severe case of food poisoning. Turns out, one of us hadn't closed the refrigerator the whole way, and the cheese had been exposed to the summer heat overnight, causing it to go bad.
According to the USDA, perishable food that has been left out at room temperature for two hours should be tossed immediately. And since you can't smell bacteria — which thrives on food left at room temperature — the "smell test" doesn't work, either. Sadly, an open fridge in 70-degree heat will not keep food at the recommended 40 degrees, so as soon as we realized what happened, it was time for a massive fridge clean-out.
We started by tossing all of the dairy (including butter), then salad dressing, mayonnaise, deli meats (bye, delicious, expensive bacon), and all of the other leftovers in the fridge. Because we were unsure how long the fridge had been open (and because seeing how sick my friend was made me not want to take any chances!), we weren't discriminating in tossing the food — even if it didn't look or smell bad.