Coco's Workout Routine Involves Stripper Heels
Coco Works Out in Stripper Heels — Have You Seen Crazier?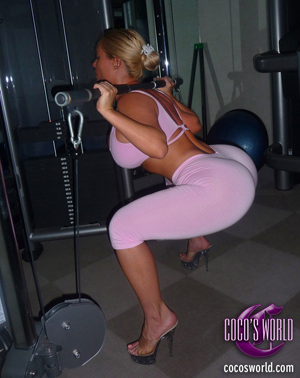 I know that wearing high heels has some benefits, but Coco, Ice-T's wife, takes things to the next level by wearing stripper heels while strength training (something I learned from watching her new reality TV show, Ice Loves Coco). And that's not all I learned. She also runs on the treadmill (replacing her stripper heels with running shoes) with her bulldog Spartacus —  as in, Coco and Spartacus share the treadmill together. It's clearly working for her, too. Coco may be curvaceous, but she also boasts a flat stomach and tiny waist.
While I've never seen a woman work out in heels at the gym, I have had my share of unusual sightings. Most recently I encountered a guy dressed head to toe in '80s hair-metal attire, blaring his iPod while flexing and grunting at himself in the mirror. Think you can top that? What's the craziest thing you've ever seen at the gym?