Cold Weather Running Tips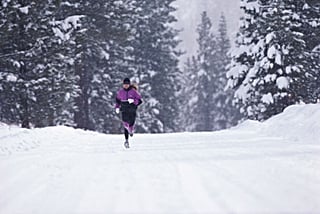 Indulgent holiday meals will feel far less stressful if you're able to maintain your workout schedule. But runners traveling to visit out of town friends and family may find themselves far, far away from a treadmill and faced with a chilly outdoor run. Luckily, exercising in the cold is both safe and fun, when executed properly. Here, a few tips on how to prepare yourself for cold weather runs.
Dress as if the temperature is 20 degrees warmer than it is. If you overdress, you'll get hot soon into your workout; underdressing, and you'll freeze the entire time. Adjust appropriately for weather conditions like snow, and wear reflective gear if you're going to be out after dark.
Warm up indoors. Muscles may feel extra tight in the cold, and getting your heart rate up while getting your muscles ready for a workout will help you stay warm and comfortable, and help prevent injury.
Dress in layers. Your bottom layer should be made of a thin material that wicks sweat away from your body (cotton is not a good idea). Your outer layer should be made of a breathable material, like nylon. And if it's really cold, add an insulating middle layer.
Don't forget your feet. Many running shoes aren't made to be completely waterproof; take one misstep through some winter sludge and your feet will be cold and wet for the rest of your run. Heavy or layered socks help keep your feet warm, but make sure your shoes allow for the extra room they'll take up.
Watch your step. Earlier sunsets equal darker runs, and slippery ice can be hard to see. Keep an eye where you're putting your feet to prevent slips and falls. Investing in a headlamp is not a bad idea.
Pay attention to the weather. Windy or wet conditions require more insulation. And if the windchill is 20 degrees below zero or more, skip the outdoor workout . . . it is too cold.