Comparing Cheese, Caramel, and Buttered Popcorn
Butter vs. Cheddar vs. Caramel Popcorn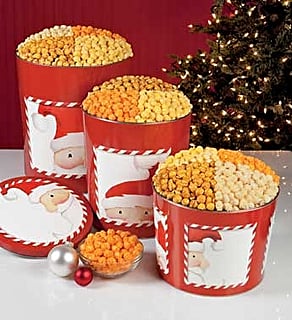 If you haven't seen them yet, you must not be looking too hard — the triple flavored popcorn tins are already popping up at shopping malls, pharmacies, and grocery stores just in time for the gorge holiday season. Growing up, they were always a big holiday hit in my house. My grandma ate the cheddar, my mom ate the buttered, and I gobbled up the caramel. Now it seems the cycle has shifted as I'm drawn to the buttered, my daughter to the caramel, and my mom to the cheese. Now if they were all equally healthy, I wouldn't care much who ate what. Since they're not, I'm paying more attention and figuring out which one is better for trimming fat while I trim the tree.
Want to see how the three flavors stack up against each other?
Since not all popcorn tins are the same, I encourage you to look at the labels on your own can and use the nutritional stats from the Popcorn Factory as a general guideline.
| | | | |
| --- | --- | --- | --- |
| | | | |
| Calories | 160 | 170 | 100 |
| Total Fat (g) | 12 | 13 | 2 |
| Carbs (g) | 12 | 11 | 22 |
| Fiber (g) | 2 | 2 | 1 |
| Sugar (g) | 0 | 0 | 12 |
| Protein (g) | 2 | 3 | 0 |
If I had to guess, I would have said that the caramel popcorn was the worst option between the three. It turns out, however, that the sweet bites are lower in calories and significantly lower in fat content. Not surprisingly, the caramel does steal the carb and sugar category and lacks any bragging rights in the fiber or protein areas. When you chow on the cheddar popcorn, you may get the highest calorie count, but at least you get more protein. Between the cheddar and butter option, I say stick with the butter though the difference is negligible. As for the caramel vs. cheddar and butter, it depends on which battle you would rather fight — fat and calories or sugar and carbs? I'm more inclined to go with whatever suits your fancy but do it in moderation.