Comparing the Nutritional Value of Corn and Flour Tortillas
Corn vs. Flour Tortillas
Say olé if you like Mexican food! I love food from south of the border, but I'm not always too keen on the heavy calories and saturated fats that tend to go along with it. In an effort to make some heart-healthier meals, I've started using corn tortillas instead of their flour counterparts. They definitely offer a different taste but I'm actually starting to prefer the lighter version. My body certainly appreciates the effort as it doesn't have to work as hard to work it off.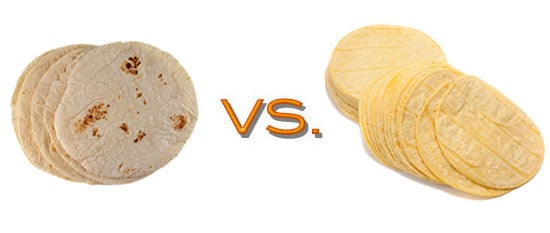 Ready to see how they stack up against each other?
The below nutritional value is based on Mission Tortilla's six-inch yellow corn and flour tortillas.
Sometimes a flour tortilla is just too good to pass up, but when there's an option to go corn, I'd take it. They offer the same amount of fiber with just about half the carbs, fat, and calories. The flour tortillas do win in the protein department, but chances are the fillers — be it chicken, beef, or beans — will more than make up for it. Corn versions are also much lighter in sodium, which makes up for all the salsa that you might want to pile on before sinking your teeth into the saucy meal.