Comparison of Mainstream Snacks and Their Healthy Versions
Snack Wars: Mainstream vs. Healthy Version
If you prefer shopping at health foods stores because you know whatever you put in your cart is healthy, think again. Just because a healthy brand makes a product doesn't mean it's instantly good for you. I just assumed that Newman's O's were better than regular Oreos, but unless you compare labels side-by-side, you can't be sure. Check out the chart below to see if the healthy versions of these snacks is actually healthier, or something you should pass on by.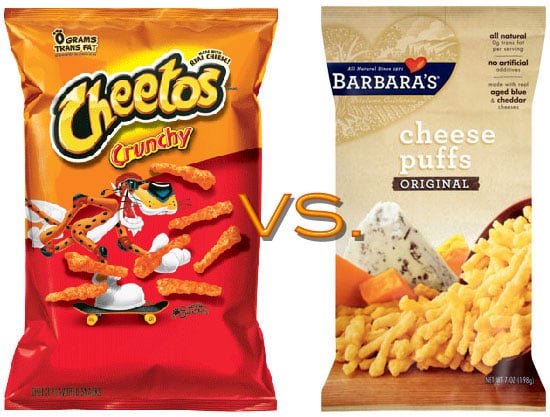 In this case, Barbara's Cheese Puffs are lower in calories and sodium, and they are also made without partially hydrogenated soybean oil. Also, the Cheetos are made with cheese seasoning, while the Cheese Puffs are made with real aged cheddar cheese and blue cheese.
I'm just getting started so keep reading to see how Oreos, Ritz crackers, and pretzels stack up.
| | | | | | |
| --- | --- | --- | --- | --- | --- |
| Snack | Serving Size | Calories | Fat (g) | Sodium (mg) | Sugars (g) |
| Oreos | about 3 cookies | 160 | 7 | 160 | 14 |
| Newman O's | 2 cookies | 130 | 4.5 | 85 | 10 |
At first glance, when you compare labels, it seems that the Newman O's are the better choice, but since the serving sizes aren't the same, the info is misleading. When you break it down per cookie, the Newman O's contain more 12 more calories than Oreos, but they also contain less sodium. Both are free of hydrogenated oils, but Oreos are made with enriched flour and high fructose corn syrup, so if you're avoiding those and have an cookie craving, go for the Newman O's.
Sorry to burst your bubble, but the Ritz crackers you loved as a kid are made with enriched flour, partially hydrogenated cottonseed oil, and high fructose corn syrup. I'd choose the Back to Nature Classic Rounds since the ingredient label includes unbleached wheat flour, safflower oil, and raw sugar. These crackers are also lower in calories, fat, and sodium.
To see the rest of the list keep reading.
Not only do I prefer the sweet flavor of the Snyder's of Hanover pretzels, but they're made with organic whole wheat flour, organic blue agave syrup, and organic chia seeds, as compared to the Rold Gold pretzels made with enriched flour and corn syrup. The Rold Gold sticks are lower in calories, but if you're watching your sodium, you'll want to choose the Oat Bran sticks.
This just goes to show you that the healthy versions of snacks tend to be made with better ingredients, although the bottom line is that these are still all snacks. Although made with wheat flour and no corn syrup, these snacks aren't void of calories. If you're watching your waistline, remember that even healthy or organic versions of snacks should be enjoyed in moderation.