Cookbook Review: Baking with Agave Nectar
I have tried many sugar substitutes in my day. Mostly out of curiosity and in a vain attempt to quell my sweet tooth. In my search I must say that agave nectar works the best for me. It is sweet, without being overly sweet and it is great in tea and salad dressing. I was curious to bake with it and found Baking with Agave Nectar ($15.95) and thought I would give it a whirl. The cookbook contains over 100 recipes from cookies to ice cream – some vegan recipes and some that include milk, eggs and butter. Many of the recipes sound tasty and I appreciate the fact that the author, Ania Catalano, includes easy to find whole wheat pastry flour as a substitute for the not so easy to find sprouted spelt four. The directions are easy to follow and the photographs are lovely; I just wish there were more of them. If you are new to cooking with ingredients typically considered health food, Catalano includes a detailed glossary of terms with in depth explanations of things like carob and guar gum. The introduction is equally inspiring.
Since I had a vegan houseguest this weekend I whipped up a batch of vegan Linzer torte cookies. The recipe took well under an hour to make (super quick) and my daughters thoroughly enjoyed helping me make the cookies as well as eating the final product. These Linzer cookies (made with almonds and raspberry jam) are truly healthy cookies. I found myself eating them after running like I would an energy bar. Next on my list to make from this book is Skinny Vanilla Bean frozen yogurt, banana cream pie and the agave Margarita.
I liked the recipe so much I wanted to share it with you. To check out the Linzer cookie recipe just
.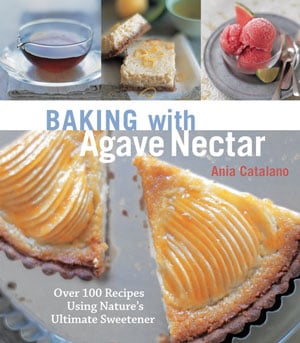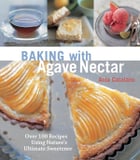 Ingredients
2 cups raw almonds
2 cups regular rolled oats (not quick cooking)
2 cups sprouted spelt four or whole wheat pastry flour
1 teaspoon cinnamon
1/3 cup light agave nectar
1 cup canola oil
1 cup juice-sweetened raspberry preserves
Directions
Preheat over to 350 degrees. Line 2 baking sheets with parchment paper.
Place almonds in a food processor and grind to a fine meal, about one minute. Remove and set aside.
Place the oats in the food processor and grind to a fine meal.
Return the almonds to the food processor along with the flour, cinnamon, agave nectar, and canola oil. Pulse to combine all the ingredients.
Roll the dough into walnut-size ball and place on the prepared baking sheets. Using your thumb, press an indentation into the center of each ball.
Fill the indentations with preserves.
Bake for 10 to 12 minutes on the baking sheets, then transfer to cooling racks to cool completely.
Reprinted with permission from Baking With Agave Nectar: Over 100 Recipes Using Nature's Ultimate Sweetener by Ania Catalano. Copyright (c) 2008 Celestial Arts Press, Berkeley, CA. www.tenspeed.com. Publisher retains all copyrights and the right to require immediate removal of this excerpt for copyright or other business reasons.
Information
Category

Desserts
You can buy the book here.