Cooking With Broccoli Rabe, aka Rapini
Learn to Love: Broccoli Rabe
Depending on where you live, finding good Winter produce can be difficult — this is especially true on the East Coast. Around this time of year, farmers markets lose a bit of lushness and start resembling outdoor root cellars. However, hidden amongst the piles of potatoes, carrots, and turnips is one of my most favorite vegetables ever: broccoli rabe, aka rapini.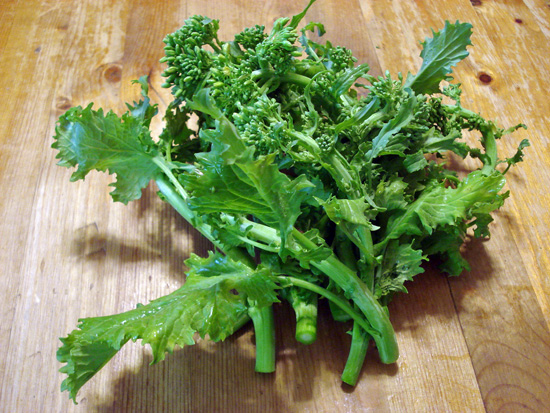 I first came across this bitter leafy green while traveling in Italy and quickly learned that it does not taste like regular ol' broccoli. They're similar in color and texture, and even though broccoli rabe sprouts small florets, it's closer in relation to the turnip family. Being a big fan of turnip greens, kale, and chard, I was immediately attracted to its bold, pungent flavor. In Italian cuisine, it's common to saute broccoli rabe with a little bit of olive oil, chili flake, lemon juice, garlic, and sea salt. My favorite way to enjoy it is in the classic Italian pasta dish, orecchiette with broccoli rabe and spicy sausage — turkey sausage works great in this dish too, by the way. I love the versatility of this veggie because it can be roasted, braised, boiled, steamed, or sautéed.
Of course anything this dark, leafy, and green has gotta be good for you too. Broccoli rabe is low in calories, an excellent source of vitamin C, and has even more beta-carotene than the standard US broccoli; it's also packed with vitamin K and isothiocyanates, which help in the process of detoxifying cancer-causing substances before they cause harm.
Source: Flickr User cbertel