Cooldown Stretches For Every Workout
Cooldown Ideas For Any Workout
No matter how pressed for time you are, you should never skip your post-workout cooldown. Taking a few minutes to stretch muscles helps prevent injury, build muscle, and increase flexibility. Here are four cooldown ideas for your workout.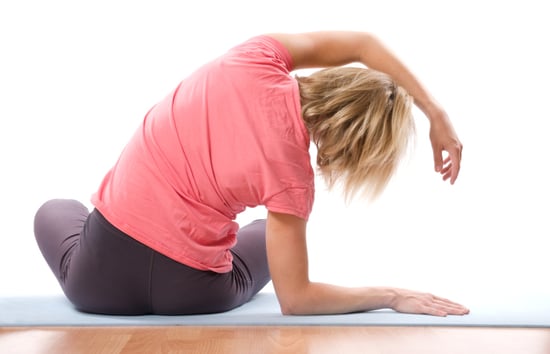 After a bike ride or Spin class: An hour on your bike or in an indoor cycling class can lead to tight hips and hunched shoulders, not to mention tired leg muscles. Work them all out with cooldown stretches like a basic hamstring stretch, and then move onto your quads. Use a sturdy wall, curb, or tree to help with stretches if you are cooling down after an outdoor bike ride. In class, you can use the stationary bike to help you balance while stretching. Get the rest of the postride stretches here.
After a run: Place emphasis on relieving overworked leg muscles and opening tight hips after a long run; these postrun stretching sequences will make you feel relaxed and rejuvenated after your run. Make sure to focus on the lower back, quads, hip flexors, and hamstrings.
After circuit training: You've squatted, lifted, and planked your way through a sweaty routine, and now you need to show your body some love. This ab and cooldown video workout features cooldown stretches at the end that will relieve your legs, back, and arms. Check out the entire workout, or skip to the cooldown at the 5:54 mark.
For everyone: No matter what your choice of fitness, chances are your workout has contributed to tight hips. And sitting in a chair for hours a day at work doesn't help matters! Use this nine-stretch sequence to cool down after a workout and focus on tight hips and an inflexible midsection.