Core Exercises to Do With a Ball
Different Curls For Different Girls: Ab-Curl Variations
Most effective ab exercises include a curl-up, but the height of the curl is what defines which muscles are working. A high curl targets your lower abs, while a low curl focuses on the upper abs. Here are variations for both high and low curls to sculpt your core.
High Curl
Sitting up, place the ball between your upper thighs. Pull behind your knees with your fingertips as you inch your heels closer to your seat. Then roll your lower back down toward the floor and use your abs to lift your chest closer to the ball. Complete 15-20 reps.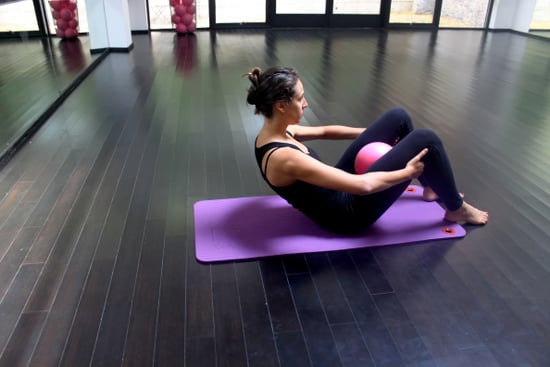 For your sides or obliques: Take the ball out from your legs and tightly press your thighs together. Pressing into the ball with your palms, twist your elbows from right to left. Repeat 10 times on each side.

See three ways to do a low curl after the break!
Low Curl
Start by placing the ball between your shoulder blades and the floor. Keeping your hands behind the knees, release your heels off the ground and point your toes together. The knees stay separated. Use your arm strength to help lift your chest up toward the ceiling, and relax your neck so that the power stays in your abs. Repeat 20-25 reps.

For a challenge: Switch the ball to your upper thighs, and lift your legs into a tabletop position. Your hands can rest behind your head as your abs lift your shoulder blades away from the floor. Do 15-20 reps.


Feeling adventurous: Squeeze your elbows together and reach them toward the ball 10 times.

Photographed at Pop Physique in San Francisco, CA