Core-Strengthening Workout Sequence
Burn the Fat Away With This Scissor-Leg Ab Sequence
You may have tried scissor kicks, but this variation will provide double the burn. Using a ball between your hands, this exercise enables you to keep your abs engaged between curls. This do-anywhere move from Pure Barre is easily done on the floor — commercial break, anyone?
Setup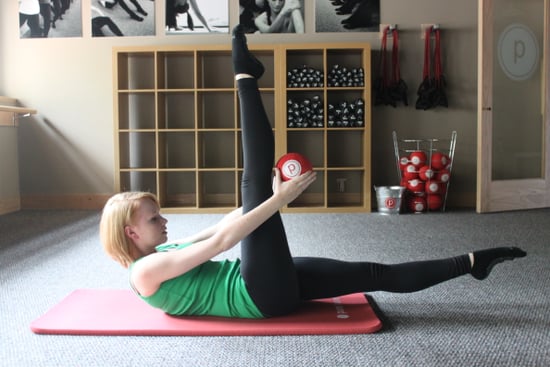 For this ab sequence, you'll need a small play ball or something that gives a little, like a bundled-up scarf or pillow.
Lay down flat on your back with one leg straight to the ceiling and the other floating above the ground.
Position your ball or item that you're going to hold behind your top thigh, holding it between your palms.
Lift your shoulder blades off the ground, but try to relax your neck so that the work stays in your abs. Start curling your upper body up and then squeezing in on the ball with your hands. Each time you curl, go higher.
Complete 15-20 reps of each curl and squeeze.
Switch Legs

Switch legs, reset your shoulders, and begin to curl. Then squeeze on the second side.
Complete 15-20 reps before drawing your bottom leg up to meet the top leg.
See another variation and soothing stretch after the break!
Both Legs

With both legs extended, reach your arms and the ball up to your shins.
Engage your abdominals to reach up, lifting higher every time for 10-15 reps to finish.
Stretch

Release your arms and the ball behind you for a full-length stretch, drawing your toes away from your body.
Model: Pure Barre instructor Juliann Witt at Pure Barre San Francisco, CA

align=center>