Counting Calories Matters More Than Protein For Weight Loss
When It Comes to Weight Loss, Calories Count More Than Protein
There are tons of diets claiming that focusing on protein is the key to weight loss — either eating more or less of it can help you shed pounds fast. But a new study has found that weight loss may be less about how much protein you eat than how much you eat overall.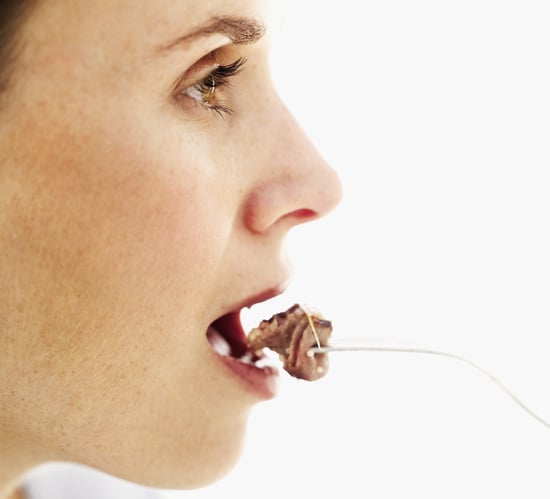 The study, released this week in JAMA, followed 25 participants closely for 10 to 12 weeks who all stayed in a hospital for monitoring. The volunteers were first fed a "weight-stabilizing diet" for up to four weeks, and then later fed a high-calorie diet about 1,000 calories over their previous meal plans. During the period they were overfed, the participants were split into three groups and put on either a low-protein, normal-protein, or high-protein diet.
Find out how much each group gained and why you shouldn't always focus on just protein intake after the break.
After eight weeks of overeating, all the volunteers no matter their protein intake gained weight, but in different ways. Those on the low-protein diet gained the least (six pounds on average, compared to 13 for the normal-protein eaters and 14 for the high-protein eaters), but consuming low amounts of protein led participants to store more fat and lose more muscle than the other groups. In fact, while the volunteers who ate the high-protein diet gained the most weight, they actually had higher resting metabolisms and more lean body mass than everyone else.
The findings of the study show that when it comes to building lean body mass, how much protein you eat definitely has an effect. When it comes to weight loss, however, it's a different story. "Protein has one set of effects, and calories have another set of effects, and they are not directly connected," said Dr. George Bray, the study's investigator.
Have you tried any high- or low-protein diets?