Coupons For Health Food
Ways to Save on Health Food: Website Coupons
Every time I step foot into my local health food store, I instantly drop at least $20. I feel good knowing the food I pick up is all natural, often organic, and fresh, but jeez — why does it have to be so expensive? If you're looking to save money on your favorite healthy brands, many companies post coupons on their websites you can print out. You may need to install a program, sign up for a newsletter, or answer a short survey, but if you're looking to save some dough, it's worth the time and effort. Here's a list of some pretty good deals that are available now. If these coupons have expired, click on the website's link anyway since companies are always updating their coupons.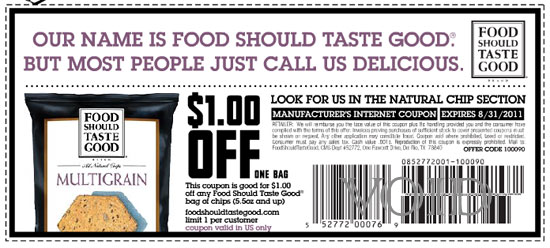 Food Should Taste Good: Go to the top of the website where it says "Special Offers" and click on "coupons." Join their fan club by giving some simple info and get a coupon for $1 off a bag of chips. Expires: 8/31/11
Stonyfield Farms: Once you fill out a little form including your name, birthday, and email address, you'll come upon a whole page of coupons for all of Stoneyfield Farm products. Just click on the ones you want and print. I got a coupon for $.50 off two 5.3 ounce containers of Oikos Greek Yogurt and $.50 off a half gallon of Stonyfield Organic Milk (expires: 7/1/11).
Silk: Fill out a little form including your name, email address, and a few questions, and receive coupons. Today I printed out a coupon for $.75 off a half gallon of Silk. Expires: 7/20/11
For more coupons keep reading.
The savings don't stop here! Take a look at the website of your favorite health food brands, and chances are there will be a coupon section. Did we miss one of your faves? Share it in the comments section below.