Crispy Zucchini Baked and Sweet Potato Latkes
Ingredients
Vegetable cooking spray
1 large sweet potato, peeled and grated
1 medium zucchini, grated
3 garlic cloves, minced
1 teaspoon chopped fresh rosemary leaves
1/4 cup and 1 tablespoon grated Parmesan
1/4 cup seasoned breadcrumbs
2 egg whites, lightly beaten
2 teaspoons kosher salt, plus extra for seasoning
1/4 teaspoon freshly ground black pepper, plus extra for seasoning
3 tablespoons vegetable oil
Olive oil, for drizzling
Directions
Preheat the oven to 450° F. Spray a baking sheet, liberally, with vegetable cooking spray. Set aside.
Place the vegetables in a large bowl. Add the garlic, rosemary, 1/4 cup Parmesan cheese, breadcrumbs, egg whites, salt, and pepper. Mix well until all ingredients are combined.
In a 12-inch nonstick skillet, heat the vegetable oil over medium heat. Add the vegetable mixture to the pan. Using a spatula, press the mixture evenly into the pan. Drizzle the top with olive oil. Cook for eight minutes or until the edges of the mixture begin to brown.

Slide the pancake, cooked side down, onto the prepared baking sheet. Bake for 20 to 25 minutes or until the top of the pancake starts to brown and the edges are crispy.

Cut the pancake into 1 1/2-inch squares and arrange on a serving platter.
Makes 12 latkes.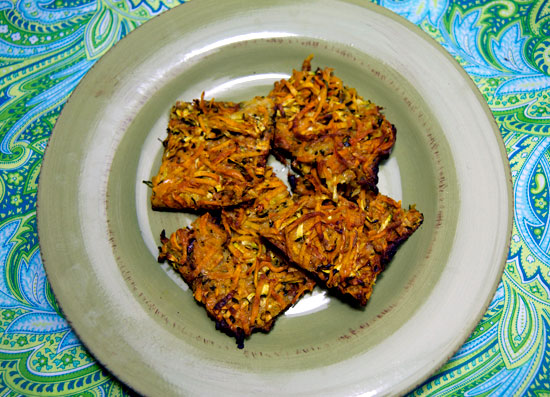 Information
Category

Appetizers, Finger Foods

Cuisine

North American