CrossFit Games Winner Annie Thorisdottir on the Olympics
How Annie Thorisdottir Went From Olympic Contender to CrossFit Champ
Once again, Annie Thorisdottir maintained her title of "Fittest Female on Earth" when she won last month's Reebok CrossFit Games for the second year in a row. But Annie, 22, once dreamed of a different type of glory; in 2009, the former gymnast was on track to represent her home country, Iceland, as a pole vaulter before she decided to give CrossFit a try. CrossFit combines everything from simple strength-training moves to weight lifting, aerobics, and gymnastics, making us curious how Annie went from Olympic contender to being the face of this popular workout.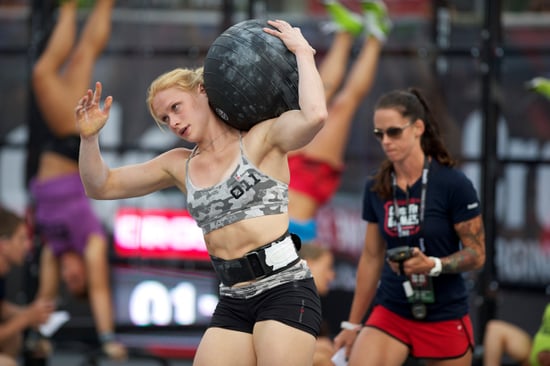 FitSugar: What types of workouts were you doing before CrossFit?
Annie Thorisdottir: I was in gymnastics from age 7 or 8 until 15 and then I started in dance, ballet, and dance sports. Then I went into pole vaulting; I was a pole vaulter for two years and then I did CrossFit and was kind of like, either I'm going to be doing CrossFit or pole vaulting, I can't be doing both 100 percent. I decided to pick CrossFit, and I'm really happy I did.
FS: What were your workouts like when you were a pole vaulter vs. how are they now that you do CrossFit?
AT: I was deciding if I wanted to try to make it to the Olympics in 2012 or 2016 and I really like pole vaulting and enjoyed it, but I always felt like I had to do something more with it. I've never felt like it was enough because it was only one thing and I felt like I really needed something else. CrossFit fit that perfect sport for me.
Keep reading to learn why Annie loves CrossFit.
FS: Is that why you like CrossFit so much, because there is always something different to do?
AT: Yeah. I can't really get sick of it because if you get stuck in one thing then you put it aside for a second and start focusing on working on something else. I really like that part of CrossFit. I always want to go to the gym and when I leave the gym I'm always satisfied because I've been doing so much.
FS: Did you see a lot of difference when you changed your training regimen from a pole-vaulting-specific one to a CrossFit-specific one?
AT: I definitely saw a difference in my posture. In gymnastics there is a lot of stress on the back so I was really hyperextended going into CrossFit. I definitely saw a difference in thinking about technique [for the] full body. In gymnastics it's more about the ability to go through everything and not really think about the perfect technique, but in CrossFit you need to think about the perfect technique in everything else that you do as well because you're actually working with extra load; it's not just a body you're working with. I think CrossFit probably saved my back because it made me realize how I need to be stronger there.
FS: Would you ever go back to gymnastics or do you think you're on the CrossFit route now?
AT: I don't think I would ever go back to gymnastics. I am so happy. [In gymnastics] I was always looking for something that could come in there because there is so much training when you're doing gymnastics. I kind of needed something bigger; I think [CrossFit is] perfect for me.
FS: Do you have any favorite Olympians who you're looking out for?
AT: No, not really, but I personally follow the Icelandic people. There are a couple of them.
If Annie's enthusiasm for CrossFit has inspired you to try it out, check out our CrossFit workouts anyone can do here!
Photo courtesy of Reebok