CrossFit Mirror Weight-Loss Tip
How a Mirror Helps This CrossFit Athlete Stay Motivated
Finding motivation to stay on the healthy path can be tough, but CrossFit star Christmas Abbott, author of the new book The Badass Life: 30 Amazing Days to a Lifetime of Great Habits — Body, Mind, and Spirit, has a tip that she uses to stay motivated every day, reminding her when she wakes up and again before she goes to bed.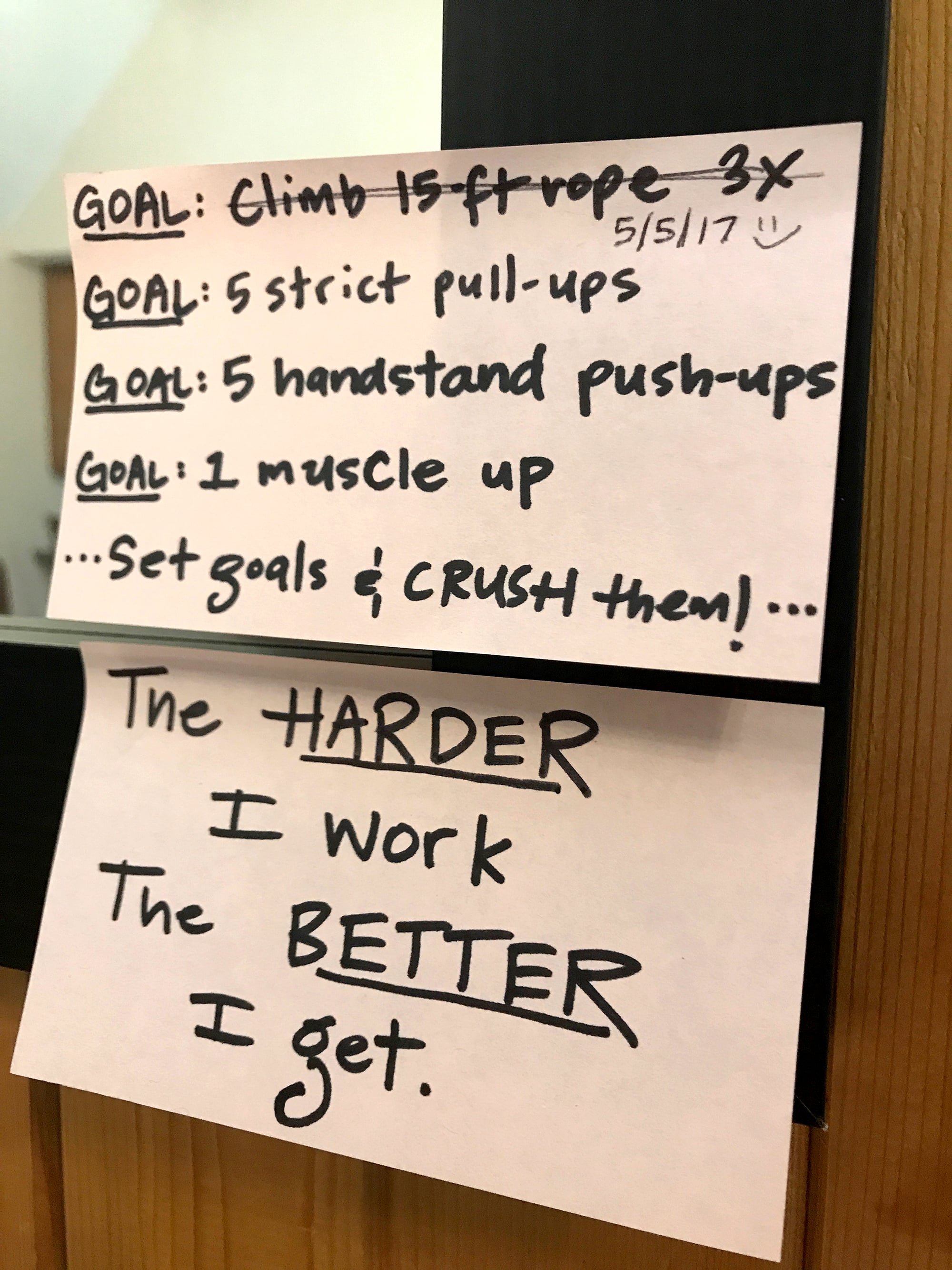 Christmas told us in an email interview, "Create a MANTRA! And write it down on your mirror so you can see it every day and say it out loud. You can't just know your mantra; you have to speak it, breathe it, live it. It will help reinforce your efforts and help keep you on track."
Aside from a mantra to keep her inspired, Christmas says, "Another great tool I use is writing down my goals (small and GREAT) on the bathroom mirror underneath my mantra. This reminds me every day that I have work to do and a goal to achieve. When I reach a goal on the list, I don't erase it. I cross a line through it and put the date next to it. That helps me see that I did accomplish something on my list and that the others are possible. It creates a meaningful, daily motivation!"
So get out the Post-it's and Sharpies, lipstick, or window markers and write down a mantra that's meaningful to you. Also jot down one to five goals so every time you look in the mirror; you'll have that littler reminder to keep working hard and never give up!
Here are some mantra ideas:
The days that break you are the days that make you.
When you think about quitting, remember why you started.
Stronger than my excuses.
Mirror, mirror, on the wall, I'll always get up after I fall. And whether I run, walk, or have to crawl, I'll set my goals high and achieve them all.
You can do this. You are worth it. You deserve it.
It's a slow process. Don't make it slower by quitting.
Grow through what you go through.
Take your dreams seriously.
Quitting is not an option.
One pound at a time.
If you want something you've never had, you need to do something you've never done.
Stay positive, work hard, make it happen.
I am my motivation.
The harder I work, the better I get.
I believe in the person I want to become.
Pain is nothing compared to what it feels like to quit.
I want to see what happens when I don't give up.
It comes down to one simple thing: how bad do you want it?