Cruciferous Veggies Improve Breast Cancer Survival
4 Cruciferous Veggie Recipes to Improve Breast Cancer Survival
While we know that crunchy, cruciferous veggies pack a big punch of vitamins and flavor, a recent study shows that they are also fantastic medicine for breast cancer survivors. The women with the highest daily intake of cruciferous vegetables had a 62 percent reduced risk of breast cancer mortality and 35 percent reduced risk of breast cancer recurrence. If you're not acquainted with cruciferous veggies, have no fear. Here are a few delicious seasonal recipes to get a heaping help into your diet.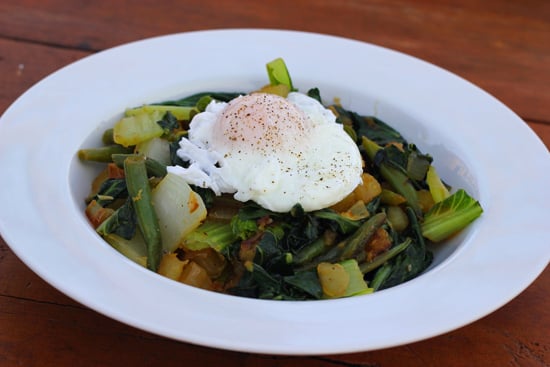 Bok choy is fat-free, low in calories, and loaded in vitamins K and C. The calcium and potassium-rich cruciferous cabbage is beautifully highlighted in this healthy breakfast recipe for bok choy hash with poached eggs.

YumSugar's video recipe for broccoli romanesco is a simple and beautiful dish that will help you get your fill of this funky — even prehistoric-looking! — vegetable, rich in vitamin C, folic acid, potassium, and fiber.
Keep reading for two more healthy cruciferous veggie recipes.

Starring a dynamic duo of cruciferous vegetables, the NY Times recipe for Provençal kale and cabbage gratin is an ideal way to get your fill of these two superfoods.

You can get a cruciferous vegetable fix without any cooking necessary! Spicy daikon radish is readily available at Asian food stores and is chock full of calcium, fiber, and vitamin C.
Any cruciferous vegetables you love to chow down on? Add yours in the comments below!