Cucumber Cups With Tapenade Recipe
Snack Smarter: Low-Cal Cucumber Cups With Spicy Tapenade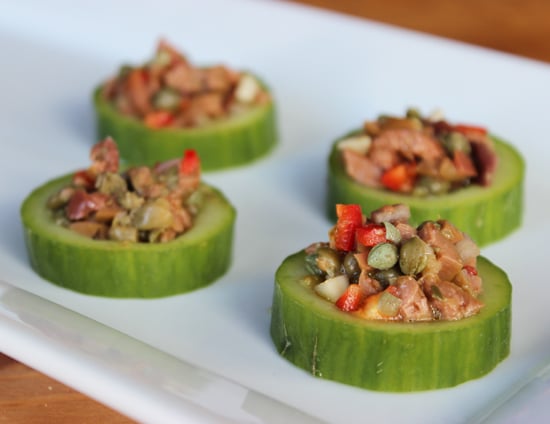 When it's time to snack, swap salty crackers for a refreshing cucumber cup. This raw recipe from Kris Carr's cookbook Crazy Sexy Kitchen is a simple remedy to curb sodium and it can easily serve as an elegant appetizer. Calorie-conscious dieters will rejoice: five of these spicy cucumber cups weigh in at less than 90 calories per serving!
Learn how to create this vegan recipe after the break.
Notes
The original recipe called for just one teaspoon of the red jalapeño or serrano. To kick up the spice, this recipe contains 1/2 one small pepper. Feel free to adjust depending on your preferences.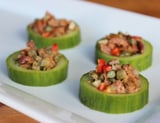 Ingredients
2 English cucumbers
1/4 cup capers, rinsed (about one small jar)
1 1/4 cups Kalamata olives, pitted, rinsed
3 tablespoons finely diced red onion
2 cloves garlic, finely minced
1/2 small red jalapeño, or red serrano, seeded and minced
1 tablespoon lemon zest (1/2 lemon rind)
1 tablespoon finely chopped oregano
1 1/2 tablespoons finely chopped tarragon
1 tablespoon olive oil
Directions
Slice cucumbers into 1/2-inch-thin rounds. To create the cup, scoop out half the seedbed of each round using a small teaspoon. Make sure not to cut all the way through. Set aside.
Mince the capers and olives, and mix with onion, garlic, jalapeño, lemon zest, oregano, tarragon, and oil in a small bowl to make the tapenade.
Fill each cup with a heaping tablespoon of tapenade.
Garnish each filled cucumber cup with any leftover herbs you may have, and serve.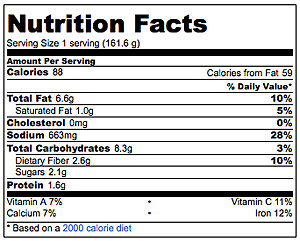 Information
Category

Snacks, Dips

Cuisine

North American