Cute, Cheap Fitness Clothes Shopping
5 Places to Find Cute, Cheap Workout Clothes
Having killer workout gear can help motivate you to stick with a routine, but that doesn't mean you have to invest in an all-Lululemon wardrobe. If you're looking for activewear that's cute, cheap, and somewhere in between a ratty old t-shirt and whole-paycheck performance wear, here are five inexpensive options.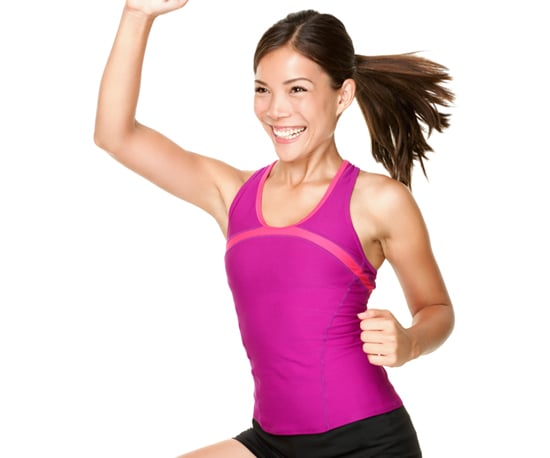 Old Navy: The retailer known for cheap basics has an activewear line that also lays the foundation for your workout wardrobe. Old Navy workout clothes include colorful tanks and tees and basic black leggings and capris, all in material that's made for fitness, like compression fit and moisture-wicking material.
We like: Fold-Over Yoga Pants ($20)
Target: Target's C9 by Champion collection is one of my favorite low-cost options for many reasons. The simple staples are comfortable and made of a sweat-wicking cotton blend that never feels too tight, and the cuts, while looser, always look flattering. Not only that, but all the basics come in a wide range of colors — perfect for stocking up.
We like: C9 by Champion Power Workout Tee ($10)
Keep reading for more affordable workout clothes options after the break.
Forever 21: Neon sports bras, layering tanks, and hot-yoga shorts, all for around $10 — there are deals to be had with Forever 21's activewear line. As with other offerings on this list, don't expect extra details like pockets for keys and cards, but Forever 21's line does include lined sports bras, jackets with zippered pockets, and mesh detailing for extra breathability.
We like: Neon Racerback Sports Bra ($9)
Walmart: The low-cost retailer carries a cheaper line of Danskin activewear, with cuts that range from figure-conscious to comfy and loose. The Danskin collection includes a line of tanks, tees, leggings, and pants made with the sweat-wicking material.
We like: Danskin Now Dri-More Leggings ($8)
Russell Athletics: The pieces in Russell Athletics' new women's line are cut to fit a little looser, but attention is paid to keeping the fit flattering, and the wicking fabric ensures you stay sweat-free while you exercise. Prices run a little bit higher than other brands on this list: from around $15 for a basic tee to around $35 for more performance-built pieces.
We like: Mid-Support Racerback Tank ($38).