Is DEET Safe?
Beat the Bugs: DEET vs. Picaridin vs. All-Natural Bug Spray
I seem to be a magnet for mosquitoes. Whether I'm trail running or just hanging out at a friend's backyard barbecue, those suckers find me and start a feeding frenzy. If you too constantly suffer from the stinging bites of skeeters, you're probably wondering which bug spray will work the best without causing your body harm.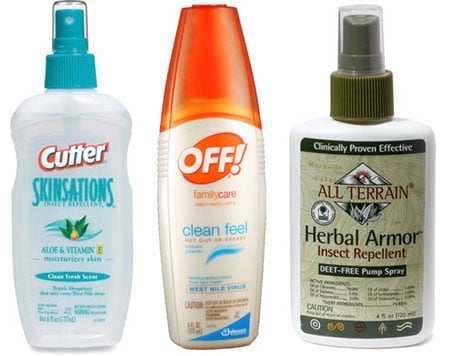 To find out, continue reading.
The Center for Disease Control (CDC) recommends using an insect repellent that contains active ingredients that are approved by the US Environmental Protection Agency (EPA). Those containing DEET and picaridin are the most effective and long-lasting, especially when concentrations of each ingredient are higher. According to the EPA, when used as directed for expected short-term (not long-term) use, these two chemicals aren't harmful to us. It's best to read labels and choose a product that fits your needs. There's no reason to use a 98 percent DEET spray that offers protection for 10 hours if you're only going to be outside for a short walk in the woods. A 10 percent concentration should protect you for about two hours. Lightly apply spray on exposed skin and clothing, and avoid overapplication (no need to douse yourself in OFF). When you come inside, wash the repellent off your skin.
If you're concerned about using chemicals on your body, there are many all-natural products available, such as Herbal Armor. If you look at those labels, you'll see ingredients such as oil of citronella, oil of lemon eucalyptus, and oil of geranium. These plant-based products may offer protection that is comparable to low concentrations of DEET products, so they definitely aren't the most effective. You may end up reapplying these products more often than directed.
You can further protect yourself by wearing light-colored clothing, long sleeves, pants, and socks, and by applying permethrin-containing mosquito repellent to your clothes.