DVD Swap Party
Beat the Winter Blues With a DVD Swap Party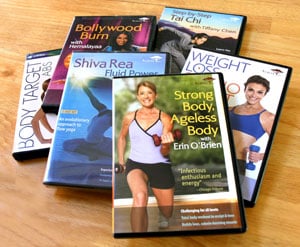 I recently 'fessed up to having a whole shelf of fitness DVDs, and it looks like a lot of you are big fans of workout videos too. Whether you own one video or 21, mixing up your collection can keep you from getting bored, especially during the colder months when so many of us move our workouts indoors or feel unmotivated to exercise.
Beat the Winter blues by hosting a fitness DVD swap party at your house. It doesn't have to be anything fancy. Just invite some of your fitness-minded friends over and ask them to bring any workout DVDs they're tired of. Serve some healthy snacks and let the swap begin. Depending on your guests' preferences, the swaps can be permanent or simply loaners.
For permanent swaps, place all the DVDs in one spot, have your guests draw numbers to see who goes first, and let everyone take turns picking out their preferred DVDs. You could even set up a white elephant (aka "dirty Santa") game, where partygoers can opt to steal DVDs from people who've picked before them.
If your friends would rather borrow than steal, have them draw numbers and pair off. Each pair can trade DVDs for a set amount of time, with the promise to return them later.
Do you like to swap fitness DVDs with friends?