Dailey Now DVD Review
Dailey Now: A Challenging Barre DVD With Something For Everyone
After having the opportunity to take a challenging class with Dailey Method's founder, I understood why this fitness-focused barre workout has such dedicated devotees. Jill Dailey's background is a combination of dance, kinesiology, Pilates, and exercise rehabilitation — in short, this woman is obsessed (in a good way!) with alignment.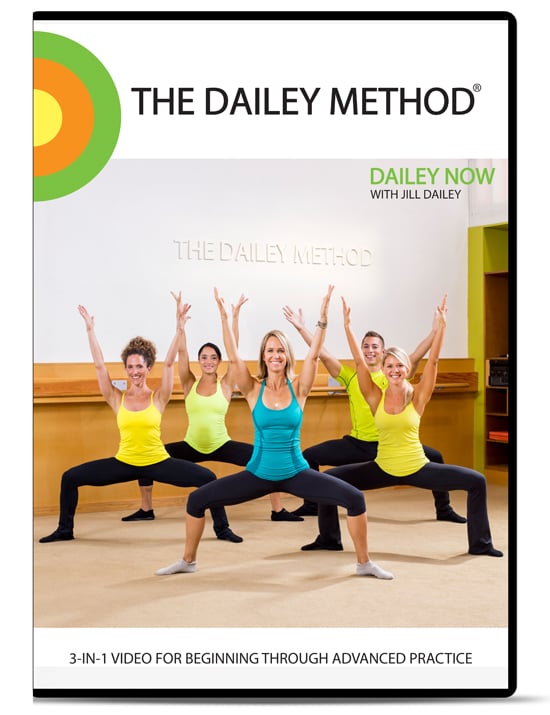 Even if you don't live next to a Dailey Method studio, you can still bring Jill's enthusiasm and exercise expertise to your living room with her DVD, Dailey Now ($35). This video features two 15-minute workouts that can be performed alone or together for a 30-minute workout, and one full 60-minute class structured just like a Dailey Method studio workout. Whether you're a beginner or more advanced, this DVD offers a little something for everyone.
Core Principles
I tend to be a little wary of short workouts, but the combination of strengthening and stretching exercises in this segment could easily stand alone. From her first instructions, Jill urges you to focus on your breath and your core alignment right away. And instead of offering a quick note and moving on, Jill delves into everything you should be feeling: "the natural curvature of your back . . . the pulling of your abdominal wall . . . stabilizing your pelvis." She leaves no stone unturned when it comes to the sensations you should be experiencing and where to draw your attention. It feels like Jill is right there with you, easily able to correct all your misalignments and offer personal instruction.
In addition to Jill's expertise and knowledge of the body, her dry yet relatable sense of humor is present from start to finish. Whereas other instructors who aren't trained as TV personalities tend to have a difficult time connecting with the camera, Jill shines through the screen. Just a few minutes into the workout, I laughed out loud when she explained, "It's a well-known fact in all my classes, the longer you breathe, the shorter plank is." Jill has the rare ability to keep you motivated and connected to the program without being saccharine or over-the-top.
Keep reading to learn what you can expect from the rest of this challenging DVD.
Long & Lean
To complement the first short workout, the second short workout, "Long & Lean," adds exercises that target your arms, legs, and seat for a full-body workout. Perhaps even more than "Core Principles," "Long & Lean" felt like Alignment Education 101. This workout was all about micromovements, tons of tiny pulses and slight changes in your position that make your muscles feel the burn and shake. If you love to take barre classes, you'll be expecting this kind of exercise, but if you're new to the world of barre, it's something that might take a little getting used to.
Like the first workout, there are two students in the class, but in this segment, the differences in their levels are much more pronounced. The beginner takes the most basic options available, while the more advanced student works with weights and other props to have an experience that suits her ability and level. Not only was this a great technique to make this workout relatable to participants of all levels, but it was also clear that there was room for your skills to develop and grow with the DVD.
Full-Length Class
This full-length, 60-minute class hopes to offer a similar experience to any classic Dailey Method class you can take at one of the 48 studios across the country. Like the earlier segments, there were students of all levels participating so you could see someone doing the exercise in a way best suited for your needs. In addition to beginner and advanced variations, I appreciated that there was a pregnant woman in the full-length video, so Jill could offer modifications for expectant mothers. While workout DVDs catered to expectant moms are certainly available, it was great to see that the Dailey Method was inclusive and aware of this need.
Doing this DVD three or four times a week promises "increased strength, definition, and balance" in your body. After trying it out, I am confident that this is the case. Not only did my body feel great upon completion, but my mind also felt clear and energized.
In short, the movements in Dailey Now may look small on the screen, but you will be sweating and shaking with every segment. If you're looking to transform your body with barre, but you're working on a budget, Dailey Now is absolutely worth the small investment. Unlike other DVDs that have sat on my shelf after one or two tries, I have no doubt that I will learn something new about my body every time I press play.