Dairy-Free Summer Breakfast Recipes
Fight Bloat With Breakfast: 4 Dairy-Free Summer Breakfasts
Kicking out lactose from your morning routine can offer your belly relief from constant bloat. If you're worried how breakfast can still happen without milk, yogurt, or cheese, then look to these four delicious recipes for inspiration. The best part is that each incorporates a seasonal ingredient to keep things fresh and fit for Summer.
Strawberry Chia Pudding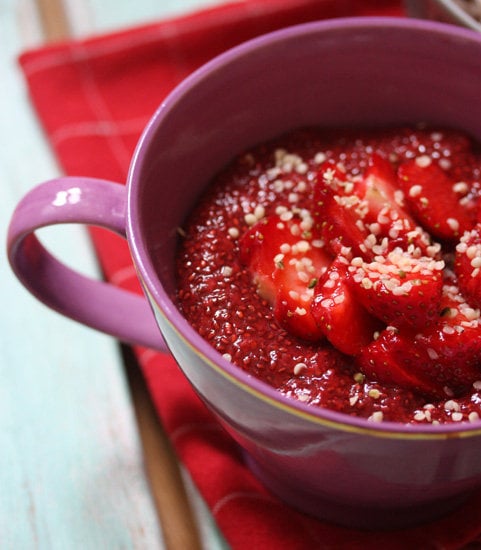 Make the most of all this fruit while you can! Start the day on a sweet and seasonal note with strawberry pudding, starring chia seeds.
Gwyneth's Gluten-Free Granola

High in iron and completely free of cholesterol, Gwyneth's gluten-free granola is sweet and nutty with the perfect crunch: everything you want in a bowl of granola. The recipe uses dried figs and plums to help sweeten things up, but top with your favorite berries for some extra sweetness.
Keep reading for two more dairy-free recipes.
Baked Eggs in Avocado

Forgo the cheese in your protein-packed egg breakfast, and opt for this baked egg in an avocado. This low-sugar and fiber-filled breakfast is a satisfying recipe to kick off any Summer day.
Wheat-Free Pancakes

Almond flour and flaxseed keeps these filling vegan and gluten-free hotcakes high in fiber. There's no need to worry about dairy in the recipe, since you can easily sub in coconut or almond milk for cow's milk and coconut or walnut oil for butter. Add as many blueberries as your plate can handle for extra antioxidant power.