Dance and Be Fit Carnaval DVD Fitness Review
DVD Review: Dance and Be Fit Carnaval Workout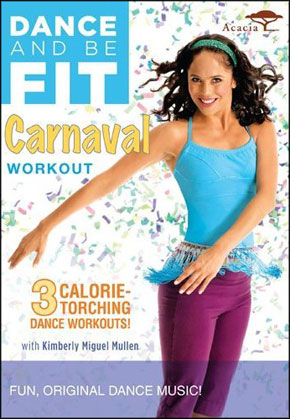 If a rhythm gets you in a workout frame of mind, you may like Acacia's Dance and Be Fit Carnaval Workout DVD ($14) with Kimberly Miguel Mullen. Based on Brazilian dance moves, the exercise routine has you sweating and jumping without hardly realizing it. During the 47-minute session, I worked what seemed like my entire body, all while having fun and laughing at my reflection in the mirror. While I enjoyed the routine, there were some parts that left me in a bit of a quandary.
To see what I liked and what I didn't, read more.
Since I'm not native to Brazil, I was a bit lost on even the most basic dance moves. After a few viewings, I am sure I could get the hang of it, but the first go around requires patience and attention. People who have prior experience with some of the steps would swing into it quite easily I think. The five-minute warm-up was good at getting the body ready to move, but I would have liked it if they used that time to perhaps outline some of the steps to come. Kimberly, the instructor, moves pretty quickly from step to step, which had me confused a few times. However, it didn't take me long to get back into the program.
Speaking of the program, there are three separate routines that keep the dancing fresh and engaging. The 12-minute "Wind It Up!" portion and the 13-minute "Jump Up!" routines were probably my favorite because they were fairly easy to novice dancers but still had my heart pumping. The 12-minute "Step It Up!" was the area where I had the most difficulty keeping up with the pace and the motions. Still, I made modifications when I needed to and just kept going. The good thing about doing it in the privacy of your own home is that you're not in the least bit embarrassed about missing a step or looking like an uncoordinated mess.
All in all, I think the DVD is a great way to get up and exercise. If you're a dancer more than a runner, you'd probably like the ability to shake what your mama gave you all the way to a smaller size — like that of Kimberly. As the instructor, she provides hopeful inspiration as her healthy and trim figure flaunts the exercise's results. It doesn't hurt that along the way, you learn how to move your hips in a new way, sweat a bit, and tone your glutes and abs. And potentially the best part about it is that you can stop and do it at your own pace. If you only have time to do 20 minutes of exercise that day, it's simple to do the warm-up and one of the longer sessions. When time permits, you can embrace the entire DVD and start sweating to the Brazilian beats. It's just too bad the DVD doesn't transport you to the actual Carnaval!