Dance Off the Inches Latin Cardio Party DVD Review
DVD Review: Latin Cardio Party
For any Zumba or hip-hop aficionados looking to add a little variety to their home workout routine, the Latin Cardio Party ($10) makes a good option. From warmup to cooldown, the entire workout takes less than 45 minutes to complete, and all three short Samba, Cumbia, and Reggaeton dance routines are easy-to-follow and plenty of fun.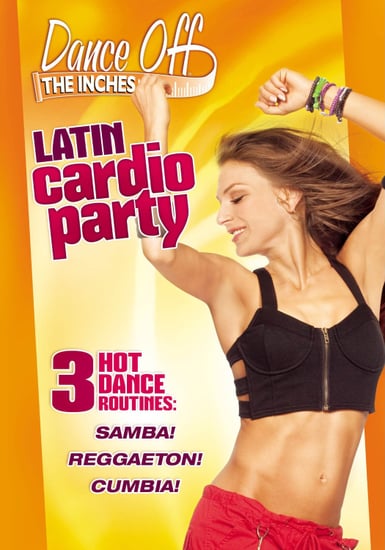 While each segment has its own distinct flavor and choreography, all three flow together to form one cohesive workout. I was happy to find out that there was no reason to break up my rhythm by pausing, stopping, or going back to the main menu during the workout. Instructor Emily Naim brought down the pace when necessary, and then hopped right back into the dancing.
Keep reading to learn how much dance experience is necessary for this DVD.
A handful of moves are repeated and then built upon during the choreography of each 11-minute segment; and before you jump into any dancing, there's a helpful step-by-step segment that breaks down the intricacies of each move. Just make sure you have an open space that is appropriate for plenty of jumping, shaking, and stepping. As opposed to some other dance DVDs on the market, you don't need any sort of background to make the most of this workout. Emily's clear instructions plus the overall pace of the DVD make it a wonderful choice for someone who has little to no experience dancing in a class environment.
The Samba and Reggaeton segments were enjoyable, but my heart rate really went up during the Cumbia choreography. While the DVD should be completed from start to finish for a full workout, if you're short on time, I would suggest the Cumbia segment for a nice, quick boost of cardio. For an intermediate or advanced dancer looking for choreography "to take to the club" (as the DVD suggests), I would look elsewhere. But anyone who is looking for a fun workout that will make you sweat in less than an hour, Latin Cardio Party brings the heat!