Dance Your Way Through the Morning Routine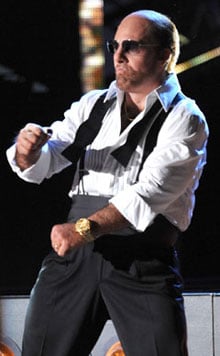 While working out in the morning is a great idea, what do you do if you just can't make it happen?
I have a friend — who lives alone, which means no angry roommates! — whose alarm wakes her up to loud, toe-tappin' tunes. After a light breakfast, she proceeds to dance her way through her morning routine of making breakfast, putting on makeup, blow-drying her hair, and getting dressed. She even throws in some squats while she brushes her teeth for good measure.
Instead of suffering through crunches or forcing yourself to run outside on a nippy morning, why not ease into the early day activity by dancing? It's a fun, no-effort way to get the blood pumpin' in the a.m. Do you get your groove on in the morning? Do you have other tips for morning workout motivation?
And if you need some playlist inspiration, check out Whitney Port's Summer mix and my recent running tunes. Are you a soon-to-be bride? Here's a wedding workout mix just for you!