Is Dark Meat Turkey Healthy?
Turkey Talk: White Meat vs. Dark Meat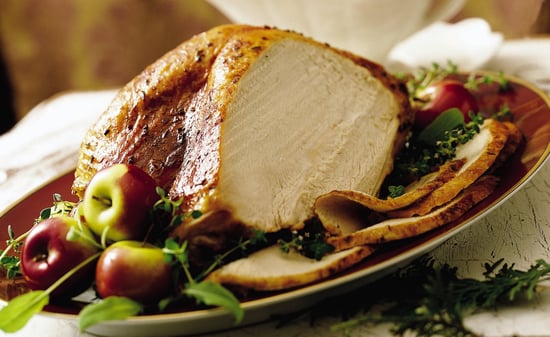 It's time to talk turkey: will you be serving yourself white meat or dark? Perhaps you'll be skipping the bird altogether and opting for a tofu version instead. Many people avoid dark meat, thinking it's not quite as healthy as white, but depending on your nutritional needs, a big ol' drumstick might be for you. We've created a handy chart to see how the different meats compare and have added the stats on Tofurky too. See how they all compare after the break.
Meat Type
(3.5 ounce serving)
Calories
Total Fat (g)
Protein (g)
Breast with skin

194

8

29

Breast without skin

161

4

30

Wing with skin

238

13

27

Leg with skin

213

11

28

Dark meat with skin

232

13

27

Dark meat without skin

192

8

28

Skin only

482

44

19

Tofurky (1/6 of the roast)

300

7

42
Those dark meat morsels mean more calories per serving, not to mention an increase in cholesterol, than that found in white meat. The dark meat, however, is higher in iron than light meat, so if you're craving a leg, I say go for it . . . but maybe skip the skin. And while I certainly hope no one would choose to eat three and a half ounces of turkey skin, it's instructive to see how much fat it actually contains. If you love turkey skin, I say treat your taste buds to a few bites since Thanksgiving comes but once a year.
Source: Flickr Users Betty Crocker Recipes