Debloating Foods Before-and-After
I Ate Only These Debloating Foods For a Week, and My Stomach Was SO Flat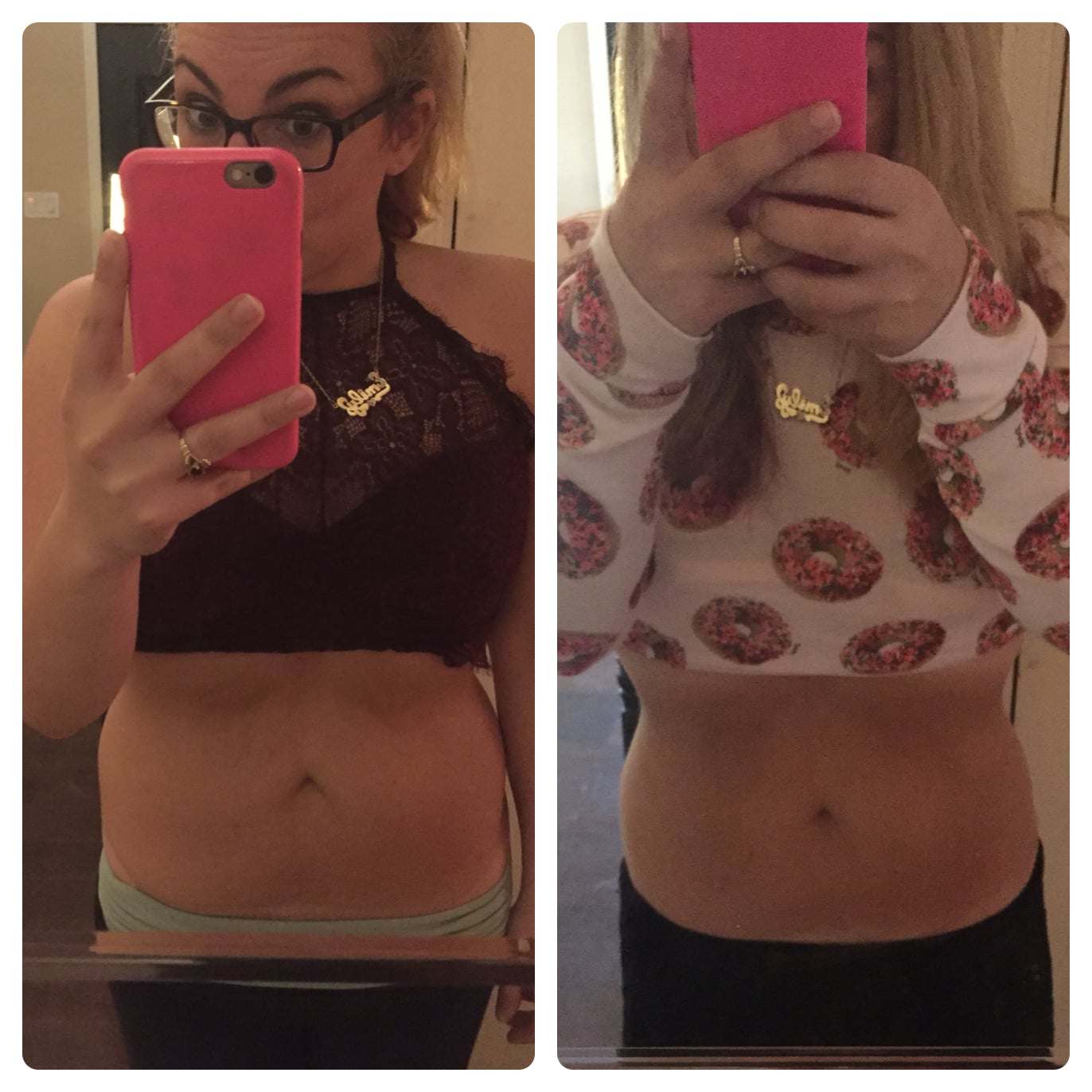 At the beginning of last Summer, before I went on a year-long wellness journey that included three rounds of the Whole30, I was looking for a quick fix. Some plan I could try out for a week or so before an on-camera event I had coming up, which would help me be a bit more confident. I stumbled upon a post on the website Betches.com, which discussed the 10 best foods to help beat belly bloat.
Let's just say I didn't do this last year. This year, it was another story.
After losing a grand total of 36 pounds on my Whole30 journey with only two or three weeks between strict rounds, I spent all of the Winter basically hibernating. OK, not true. I was actually busy traveling. I was on the road every one to two weeks in different countries and cities around the US. When I travel for business, my meals are either planned for me or grab and go. When I travel for pleasure, I like to take in the local flavor and enjoy myself a bit. So from Quebec City to Hawaii and back again, I enjoyed myself.
While I have only put three pounds back on, which is completely normal and expected, I realized that I was struggling a bit overall. There have been times where I have felt super sluggish and unfocused. So much so that not even going to my beloved SoulCycle excited me anymore. The fatigue, too, has been tough to deal with. And while it was only three pounds, my body was looking a bit more round to me. With not enough time to do a complete Whole30 round with my travel schedule, I remembered the story from last year. I googled it, reread it, and decided that for one whole week, I would ingest nothing but watermelon, asparagus, shrimp, cucumber, frozen grapes, grapefruit, zucchini, water, celery, and jicama — but actually no celery because ew.
I stayed with a pretty strict routine during this, well, let's call it a detox, because if I didn't, I would probably be tempted to veer off course. For breakfast, I would eat watermelon and grapefruit, alternating them. Lunch and dinner were either a shrimp and asparagus or shrimp and zucchini combination. Both of which I grilled with no additives because I was afraid I would mess up everything and I would be torturing myself doing all this work to see no results. Dessert was frozen grapes. I snacked on cucumber and jicama (which I made into thin sticks, like a slaw because I need a little crunch) if I needed to and also put cucumber slices in my water throughout the week for extra flush.
I have to tell you, I thought I was going to hate this so much. It was fine. I felt really good the whole time, and my energy definitely increased. While I missed the crap out of my morning coffee the first two days, by the end of the week it felt natural to go right to water when I first got up (which I warmed to savor the feeling of a hot beverage).
Not only did I feel better, but I am pretty sure the photos speak for themselves. My stomach is clearly flatter after doing the detox (the photo on the right) than before. My waist and love handle area, too, noticeably shrank in seven days, and my muscle tone is better.
If you asked me if this worked, I feel like it absolutely did. It's not a long-term solution for me, that is for sure, but it's definitely an option when I need to debloat quickly or when I am feeling off and need a reset.
But travel has picked up again and I'm on my way to Napa for a wine festival, making this detox something I will most likely do again in the foreseeable future (like, as soon as I get back). Oh well, when in Rome.
Image Source: Emily Cappiello