Delicious and Healthy Minty and Vegetable Filled Smoothie
Healthy Recipe: Smooth and Minty Smoothie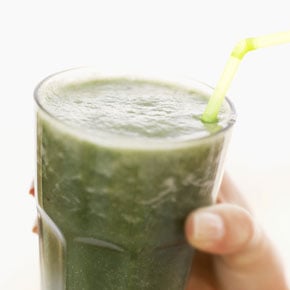 When I was little, my mom used to make me child version grasshoppers. For those of you that don't know what that is, it's heaven in a glass. Imagine a mint chocolate chip ice cream blended to perfection and served up cold and frosty. Now imagine that same smoothie gives you fiber, iron, manganese, potassium, and all sorts of powerful vitamins. I've got one that can do just that. OK, OK . . . it won't taste like the grasshopper, but it's minty, refreshing and oh so good for your body. Another recipe from Green For Life, this green smoothie brings nutrition to the forefront without leaving the taste buds far behind.
Ready to see the yummy recipe?
Minty Thrill
Green for Life
Ingredients
4 ripe pears
4-5 kale leaves
1/2 bunch of mint
2 cups water
Directions
Blend all the ingredients together for a smooth drink. Yields one quart.
Information
Category

Drinks, Smoothies

Cuisine

North American
| | |
| --- | --- |
| | One 16-ounce serving |
| Calories | 16 |
| Total Fat (g) | 1 |
| Carbs (g) | 54 |
| Fiber (g) | 13.5 |
| Sugar (g) | 39 |
| Protein (g) | 4 |