A Delicious Recipe For Kale
Make This: A Sweet Bed of Kale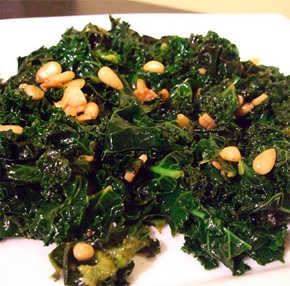 When you're invited to a dinner party, you may not expect to be doing the cooking yourself, but that's exactly what I did last weekend. At a recent gathering of friends, I was surprised to see that we actually made our dinner and then sat down to eat it. Organized by a dear friend of mine, Parties That Cook came to his house and set up work stations, gave us recipes, showed us some chef tips, and let us take the lead. After we cooked our dishes, we went to another room and drank cocktails while the professional chefs turned the cooking area into a fabulous dining room complete with candlelit place settings.
While I would have loved to make the delicious dessert, I was actually pleased to be on "team kale," as I picked up a new healthy recipe that I can share with you!
Are you ready to see it?
Sauteed Dino Kale With Currants and Pine Nuts
Ingredients
1 ½ pounds dino

kale

, washed thoroughly and cut up so it can boil down easily
3 tablespoons olive oil
½ large onion, chopped
2 large garlic cloves, sliced
1/3 cup apple cider
1 tablespoon apple cider vinegar
1/2 cup currants
1 tablespoon honey
1 1/2 teaspoons salt
1/4 teaspoon pepper
1/2 cup pine nuts
Directions
Preheat oven to 350 degrees.
Trim

kale

: Rinse the

kale

and cut the stems off the greens. Roughly chop the stems and set aside. Cut the greens into 2-inch slices.
Sauté onion: Place a Dutch oven over medium high heat and add the oil. Add onion to pot and cook 3-4 minutes. Add the sliced garlic and continue to cook until garlic is just starting to turn golden, stirring occasionally. Add all of the kale and sauté for 5 minutes or until wilted, stirring frequently. Add cider and vinegar; cover and cook 10 minutes, stirring occasionally. Add currants, honey, salt and pepper; cook about 5 minutes longer, or until greens are tender, stirring occasionally.
Serving: Transfer

kale

to a serving platter and top with toasted pine nuts.
Serves 6
Information
Category

Vegetables, Side Dishes

Cuisine

North American
Served under a chicken breast or a salmon steak, the sweet kale is pleasing to the palate and healthy for the heart. Full of essential nutrients like fiber, calcium, copper, and potassium, it is also an amazing source of antioxidants, vitamin A, vitamin C, vitamin B6, and manganese. Sounds like this savory dish should complement every dinner. And with the rave reviews I've gotten on it, it just might!
Source: Flickr User wonderyort