Demi Moore Defends Detox Diet on Twitter
Demi Moore Defends Her "Clean" Detox Via Twitter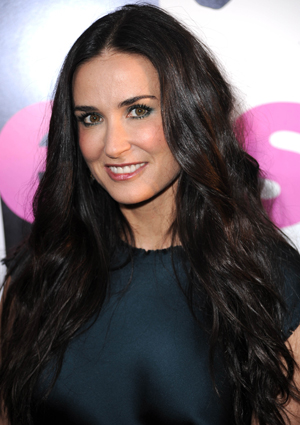 Remember when we told you that Demi Moore was on the 10-day Master Cleanse? Well, it didn't last quite that long. Via Twitter, Demi said that she made it through four days of the detox. Given that she was only allowed a concoction of maple syrup, lemon juice, water, and cayenne pepper, four days seems like an awful lot! But she didn't abandon detoxing altogether. In the same tweet, she said that she was on day 13 of the Clean Program, a popular detox amongst celebs like Mariska Hargitay and Gwyneth Paltrow.
The Clean Program is a three-week cleanse with claim of ridding the body of toxin buildup. It consists of one solid meal of whole, organic foods and two meal-replacement shakes per day, along with pill supplements. It's also expensive — the three-week program runs $350 (food not included). And while it's not surprising to see another celebrity tout a cleanse, it is surprising to see a fan call them out on it. Shortly after Demi tweeted about the Clean Program, one of her followers — @chazzyb31 — sent out a series of tweets criticizing Demi's decision. Not content to keep silent, Demi retorted.
See their Twitter exchange when you
.
@chazzyb31: "I looked at the website you linked to. Two shakes & only 1 proper meal sounds like every other fad diet out there, e.g. SlimFast. With eating disorders so prevalent these days I am disappointed when celebrities like yourself endorse this sort of thing. You have a lot of influence, whether you realise it or not, and your fans may be all too ready to try something similar that doesn't cost $350 a pop (hefty price tag) and doesn't have the same support system you enjoy. I find it worrying. #justsaying"
@mrskutcher: "I think you need to research what it is I am doing there is no starving involved! It is all about nourishing the body!"
Demi went on to tweet to other fans that @chazzyb31 "doesn't know what she is talking about," and that the Clean Program is "healthier and liveable." The Clean Program even got in on the action, tweeting to @chazzyb31 the merits of the program, and asked her to "holla at us" with any questions. How's that for some Twitter drama?