Details on Self Magazine Workout in the Park
Self Magazine Workout in the Park Coming Soon
I am all about exercising in the great outdoors now that it's Spring. And if you are lucky enough to live in San Diego, Chicago, or NYC, you can work out in a park with Self magazine.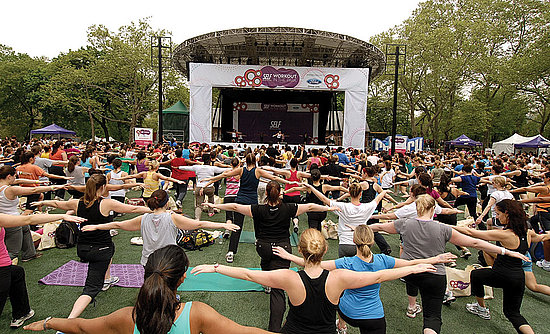 For $20 you can sample fitness staples like Pilates and kickboxing, or experiment with Broadway dance moves and new booty toning exercise in a Rock Bottom class. Plus, Jennifer Aniston's trainer, Mandy Ingber, will be on hand to lead you through a Yogalosphy workout, her innovative hybrid yoga workout. You can also meet with beauty and fashion consultants, and receive plenty of nutrition tips, too.
You can purchase tickets here for Self Magazine Workout in the Park in advance, which is advised since these events often sell out. When purchasing a ticket to the event, you will also receive a one-year subscription to Self magazine. That's 12 months of motivation on glossy pages.
To see the dates of the three upcoming events,
.
April 24 in San Diego, CA, at Ski Beach in Mission Bay Park
May 8 in New York, NY, at Rumsey Playfield in Central Park
May 15 in Chicago, IL, at Butler Field in Grant Park
Aside from learning new ways to take care of yourself when you participate in the Workout in the Park, you can feel good knowing that 100 percent of the proceeds from each event ticket sold will be donated to Susan G Koman for the Cure and Cancer and Careers — two great organizations helping women battling cancer.
If Self planned a workout in a park in my neck of the woods, I'd be there in a New York minute. A fitness freak can dream, can't she? Have you ever been to one of these events? If so, I'd love to hear about it in the comments section below.