Detox Salad With Cabbage and Apples
Make This: Cabbage Salad With Apples and Caraway Seeds
Cabbage is one of those healthy foods that people tend to avoid, but it really is a great alternative to lettuce and so good for you. My favorite type is Napa cabbage, which tastes slightly sweeter than other cabbages. Not only does it have a wonderful crunch, but it also has some seriously healthy attributes.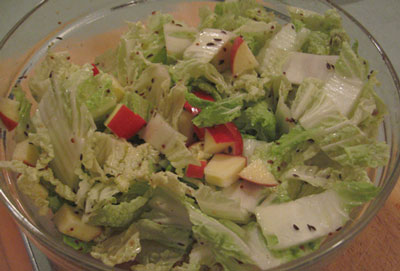 Cabbage is great for detoxifying your liver and studies have shown that it can help prevent prostate, colon, and lung cancers. This is probably due to the fact that it is loaded with phytonutrients, which work to clear free radicals and toxins, including potential carcinogens from our systems. Not only that, but it is high in vitamin C as well as vitamin K, not to mention fiber. I like to whip up a Napa cabbage is in a simple salad, to pair with hearty, Winter dinners because the salad is so light and crisp. Check out the recipe.
Napa Cabbage Salad With Apples and Caraway Seeds
Adapted from Every Day Foods
Ingredients
1 teaspoon caraway seeds
2 tablespoons white-wine vinegar
1 tablespoon country Dijon mustard
3 tablespoons olive oil
1/2 medium head of napa cabbage, cored and thinly sliced
2 red apples, cored and cut into bite sized pieces
Directions
Toast caraway seed either in toaster oven or in a skillet over a medium flame for 2 to 3 minutes.
In a small bowl, whisk together vinegar, mustard and oil until well blended. Season to taste with salt and pepper.
In a large bowl, combine cabbage, apples and caraway seeds. Add dressing to taste and toss to combine.
Makes 4 servings
Nutritional information per serving: 155 calories, 10.6 grams fat, 1.9 grams protein, 13.4 grams carbs, 3.2 grams fiber
Information
Category

Salads

Cuisine

North American
Make it and let me know how you like.