Detoxifying Apple Ginger Lemon Juice From Ritual Welness
A Simple Juice Recipe That Promises to Energize and Detoxify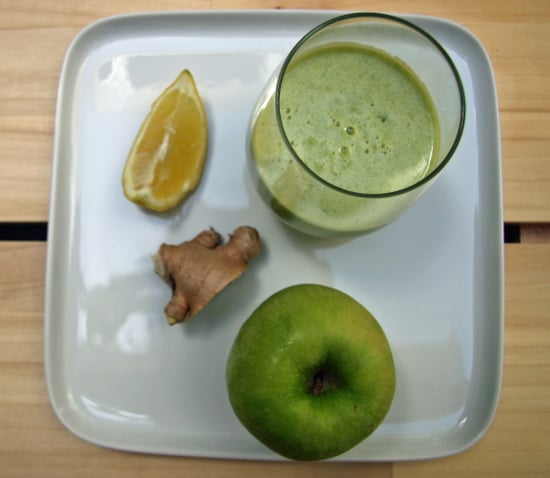 This detoxifying juice recipe from Ritual Wellness helps boost immunity, aid digestion, and even up energy levels. Best of all, it only contains three ingredients: lemon, ginger, and green apple. Don't be mistaken, though, while it might be a simple recipe, it still packs a punch. The flavors combine for a sweet-tart concoction that hits the palate with a spicy kick from the ginger — a surefire way to wake up the senses! "The beauty of this juice is that it's great to drink anytime," said Lori Kenyon Farley, cofounder of Ritual Wellness. "It ensures you are flooding your body with nutrients first thing each morning. You can also drink it midafternoon for a natural energy boost, rather than a coffee break." One recipe that does a little bit of everything — who wouldn't love this?
Lori particularly loves this antioxidant-rich juice as a way to reset her body after an indulgent period: "High in vitamins A, B, and C, it helps cleanse the liver and remove mucus from the body." Besides aiding in digestion, the ginger is key for soothing an upset stomach or nausea. Perfect if you had a bit of a rough one the night before.
Notes
If the juice is too spicy for you, add up to one additional apple to the recipe.
Ingredients
1/2 lemon, peeled
2 Granny Smith apples
1 piece fresh ginger about 1 inch long
Directions
Put the lemon through the juicer, then add the apples and ginger. Stir if necessary and enjoy immediately.
Makes one 12-ounce serving.
Information
Category

Other, Drinks

Cuisine

North American