Diana Nyad Interview
Diana Nyad: More Than Just a Swimmer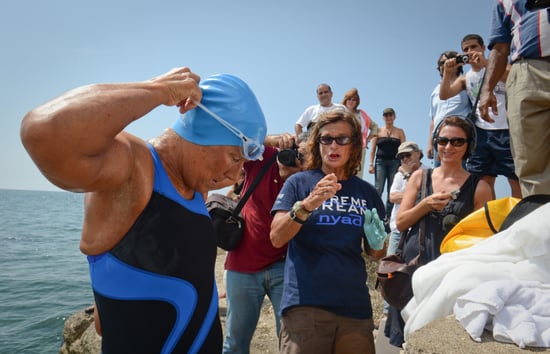 When I began my interview with long-distance swimmer Diana Nyad, I secretly had the hope of discovering the magic that would let my workouts mimic those of Wonder Woman herself. Unfortunately, that wasn't the case.
For Nyad, there are no secret training tips, no special goggles, and no superstitions. In fact, she did everything you would expect one to do gearing up for a 110-mile odyssey from Havana, Cuba, to Key West, FL. For four years, she didn't attend any birthday parties, she didn't indulge in a drink, and she arguably didn't cross train. She simply put her head down and swam, "making sure no stone was left unturned."
The results paid off. On Sept. 2, Nyad swam from Cuba to Florida for 53 hours straight. No rest, no sleep, just swimming and "tripping out on the meaning of the universe." With a journey that took four years and multiple failed attempts, at the age of 64, Nyad finally put skeptics and the voice in her head to rest.
It is now apparent that "the impossible" wasn't the biggest thing Nyad set out to accomplish. Just weeks after her record-breaking swim, the once No. 1 Google search in the world has more going through her mind than the day she left Cuba — the victims of Hurricane Sandy.
So how will she finish a swim that "weighs more on her" than her historical feat?
For starters, "[Y]ou find a way," she says. Not only a way to swim for 48 hours straight, but also "a way to live up to everything that's important to you both emotionally and physically." On Oct. 8 at the Nyad Swim for Relief, her willpower and donations from individuals and sponsors like Tide and Secret, will be directed toward the thousands still homeless from last year's storm.
Then, you find a song, or in Nyad's case, 85 of them. "I have 85 songs that mean something to me when I swim," from Neil Young's "The Needle and the Damage Done" to Simon & Garfunkel's "The Sound of Silence" (ironically fitting for dark nights in the water).
But above all, you find the present. For someone who spent 30 years thinking more about the regrets of the past and worry of the future, Nyad strives to stay in the moment. "We're all on a one-way street and in the blink of an eye everything can change," she said — something both Nyad and the survivors of Hurricane Sandy know all too well.