A Diet and Exercise Program to Build Muscle Fast
Build Muscles Fast With These Tips
So you want to build muscle? It's not just about trying to lift the heaviest weights. Building muscle and obtaining that oh-so-flattering definition is all about a dedicated plan. Read on for a how-to on planning a muscle-building routine and what (and when) to eat.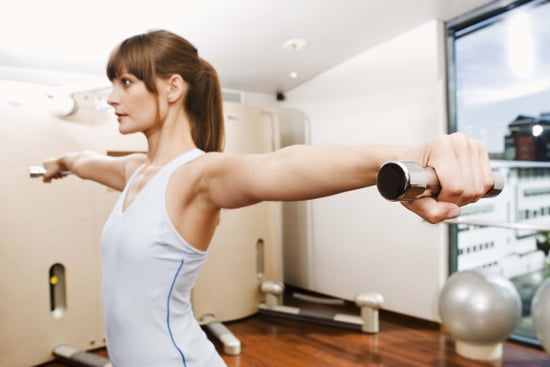 First, you need to form a schedule for strength training. Try to do it at least 20 minutes of strength-training twice a week so that you can build a foundation for a stronger body, without having to devote too much time at the gym. It also helps to switch up your routine often so you don't plateau. Need some ideas? Check out these total-body and body-specific routines that will work out your shoulders to legs, and everything in between.
Now that you have a strength-training plan, read on for more tips on how to build your muscles.
Your diet is also essential in helping your muscles grow stronger. Proteins are the building blocks of your muscle tissue — the amino acids in proteins help repair the tiny tears that happen when you exercise. Need a muscle-building meal idea? Here's a protein-rich meal plan that'll supplement all that hard work at the gym. And remember to have a protein-filled snack within 15 minutes to two hours after you workout — that's the optimal window for feeding your muscles. Don't forget to eat carbs too, they also help your muscles refuel.
Now that you've started a routine, the day after you've spent time exhausting those muscles can be painful. While you may feel like you want to move around as little as possible, in fact, doing light exercise may help combat muscle soreness by getting your blood moving. And, bonus, doing a few minutes of light cardio the day after a long strength training session can actually help repair and strengthen muscles, so go for a short jog or do some stretches the day after a hard session.