Diet and Fitness Routine of Kimberly Caldwell
Kimberly Caldwell Shares Her Tips For Healthy Living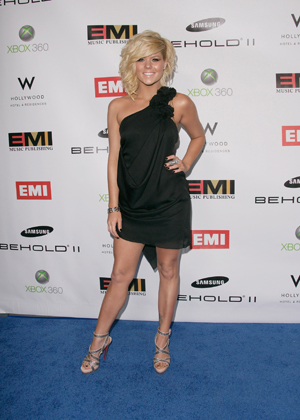 Two years ago former American Idol contestant Kimberly Caldwell got serious about her diet and lifestyle, shedding 20 pounds in the process. Most important, she's kept up with the changes she made then and hasn't gained the weight back. Crediting yoga for her lean figure and working out for keeping her calm, Kimberly shares her tricks for getting slim and staying that way in the July issue of Shape. Check them out here:
Keep workout gear on standby: Kimberly says to always keep fitness gear with you, especially when traveling. Whenever she goes on tour, she always takes two things with her — a pair of sneakers and a sports bra. This ensures that she'll be able to go for a run or hit the hotel gym.
Beware of sneaky diet saboteurs: Even light fare can be packed with calories, which is something Kimberly learned from her trainer. As a result, many of her sauces are now dips: "I'm from Texas and I used to have chicken smothered in it [barbecue sauce] . . . So now I get it on the side and just dip — I still enjoy the taste but save on tons of calories."
Take the guesswork out of exercise: To make things easier, Kimberly works out with a trainer or goes to fitness classes. For her, taking direction is a way to maximize results. Frequency doesn't hurt either — Kimberly says she works out "three to five days a week."