Diet and Weight Loss Tips From Kourtney Kardashian in Life & Style Magazine
Kourtney Kardashian Shares Her Weight Loss Tips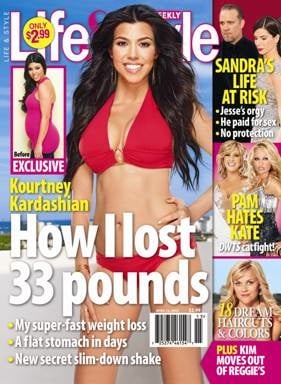 As we shared with you yesterday, Kourtney Kardashian has slowly been getting back to her prepregnancy body: in just under four months, the reality star has dropped almost all of her pregnancy weight. While she lost 12 pounds from the birth itself, Kourtney has worked hard to lose another 21 and recently shared with Life & Style how she managed to take it off. But even though she's losing weight, she says her body has definitely changed as a result of breastfeeding and having a baby: "I really like having this womanly body. Khloé keeps slapping my butt because she loves that I have a booty now!"
Check out some of Kourtney's weight loss tips here:
Tailor exercise to your life: Fit fitness into your hectic schedule even if it's just for a few minutes. Since Kourtney is on breastfeeding duty every two hours, she schedules exercising around Mason's feeding schedule. "I can jog right outside the house for 30 minutes," she tells Life & Style, "and save the time it takes to drive to the gym."
See more of Kourtney's tips when you read more.
Use the buddy system: To stay motivated, "Kourtney jogs with Khloé on the beach in Miami and takes classes with Kim when in LA." Working out with a buddy is often more fun, and you can challenge each other to work harder.
Don't stress over slumps: "A few weeks after I had Mason, my weight kind of stopped dropping," Kourtney tells Life & Style. "It had been dropping, dropping, dropping, then for a good week or two, I was the same weight every day. I was like, 'OK, I have to step it up.'" Her fix? Adding weight training to her regimen.
Allow small indulgences: Whether you want to reward yourself or not feel deprived, allow yourself treats now and again. Kourtney refuses to give up peanut butter M&M's. "I can't just deprive myself every day," she says.
For all of Kourtney's weight loss tips, pick up the new issue of Life & Style on newsstands now.