Dieting Tips For Successful Weight Loss
5 Reasons Your Diet May Be Failing You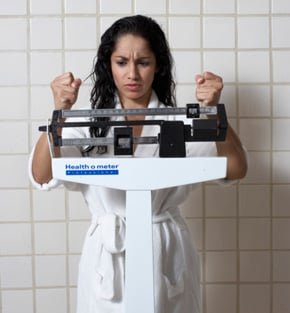 Having trouble losing those five pounds you've been swearing off since the start of the new year? While you may be working tirelessly to rid yourself of that last pesky weight, you may be duping your own body into failure without even knowing it. Come check out these five reasons why you may not be meeting your weight loss goal.
Your H20 level: Are you drinking enough water? You may not be getting enough to keep your body burning the calories and fat you've been trying to get rid of. Keeping hydrated will help you to keep your metabolism going and the calories burning.
Don't forget breakfast: While you don't need to load up on flapjacks and sausage, you should eat a healthy breakfast to get your day started. If you get going without any fuel in the tank, your tummy may trick you into snacking on the wrong things or eating an over-sized lunch.
Empty calorie sips: Check the nutritional data on your coffee or sodas to make sure you're not taking down too many empty calories. An easy fix? Switch to plain old water. See point number one!
Ready to see points four and five? Just
.
Sneaky snacks: If you grab for a "low-fat" snack every time your stomach rumbles, you may be doing your waistline a disservice. Sometimes low-fat snacks can still be high in calories or sugar. Before you reach for that pack of "healthy" yogurt pretzels, consider an apple or one of these simple low-calorie treats.
Eating too little: Say what? Yes, it's true. Sometimes limiting yourself to too small portions can lead to too much snacking between said meal times. Also restricting yourself from eating what you are really craving can sometimes mean eating a substitute that may not be as bad for you but could be wrecking your diet plans. It is sometimes better to have a bite or two of the real deal than to splurge on a substitute instead.